Benefits of an Enclosed Porch
An enclosed porch is a fantastic addition to any home. Whether you are planning to add a porch, or already have one attached to your home, enclosing it offers more usable space that is accessible all year round to you and your family.
What are the Benefits of Adding an Enclosed Patio to Your Home?
Additional Multi-Purpose Living Space
An enclosed porch adds usable square footage to your home. You can use the space to work, entertain, or relax. Many people use this space as a recreational room or even a home office!
Add Home Value
The additional square footage a porch enclosure offers can also increase the value of your home if you plan to sell it. The enclosed porch provides privacy from neighbors while allowing you to enjoy the beauty of the outdoors.
Protection From the Elements
When the weather is unpredictable, an enclosed porch offers protection from both heat and cold. The walls of the porch can be insulated so you can enjoy the space even in the winter months. In the summer, bugs are kept out and you can open the windows to allow for a pleasant breeze. The windows to this space have a built-in coating that will protect you and your furniture from ultraviolet light, which can be harmful after prolonged exposure.
Safe and Secure
Security doors and windows are a key feature of many enclosed porches, but they can also offer another line of defense to protect children and animals from venturing outside. Triple paned windows offer extra security, along with security glass to prevent a break-in.
What Are my Porch Enclosure Options?
Screen Room
Screen rooms are a great affordable option to keep out the bugs during the summer. A screened-in porch is a great place to entertain during nice weather, however, it is not temperature controlled. You can choose to add a ceiling fan to circulate air to make this space more comfortable during warmer months. With the proper planning, you can choose to build a screen room that converts into a three-season room later. You'll want to consult with a sunroom contractor to determine if this is an option for the screen room you choose.
Three Season Room
The main difference between a three-season vs. four-season room is that three-season rooms are not temperature controlled. Here in the midwest, three-season rooms are comfortable during spring, summer and fall, but may be too cold for winter. Generally, these rooms are made of aluminum, making them a more affordable option than four-season rooms.
Four Season
As mentioned above, four-season or all-season rooms are temperature controlled. Often they have their heating and cooling system, or they are connected to the main house's HVAC system. Four-season rooms are made of vinyl, which makes them pricer, but they are a true room addition that can be utilized year-round.
How to Plan a 
 Patio Enclosure
The first step to planning a patio enclosure is to determine what this room will primarily be for. Try jotting down your reasons, and ask yourself questions like:
What will this space be for?

Are you hoping to increase the value of your home?

Is your family growing or planning to grow?

Are you making a lifestyle change, such as working from home?

Is there an ideal space for the sunroom to go?

Which side of the house does the sun rise and set?
Once you have determined what you are looking to get out of your sunroom, you'll want to consider if you want a pre-fabricated or custom sunroom. A pre-fab porch enclosure system comes in a kit that contains all the framework, wall panels, and roofing pieces. Pre-fabricated sunrooms are more affordable, but you are limited with your design options. A custom sunroom will give you a larger range to choose from. 
Also, consider where the sunroom should go. If you have a deck or patio, there might be an opportunity to turn your deck into a sunroom without needing to lay a new foundation. Check out this post about designing the perfect enclosed porch for more tips.
Enclosed Porch Ideas
There are lots of options to choose from when it comes to enclosing your porch. These Orland Park, IL Three Season Room homeowners chose to extend their patio to surround their sunroom. They now have plenty of space to grill and entertain.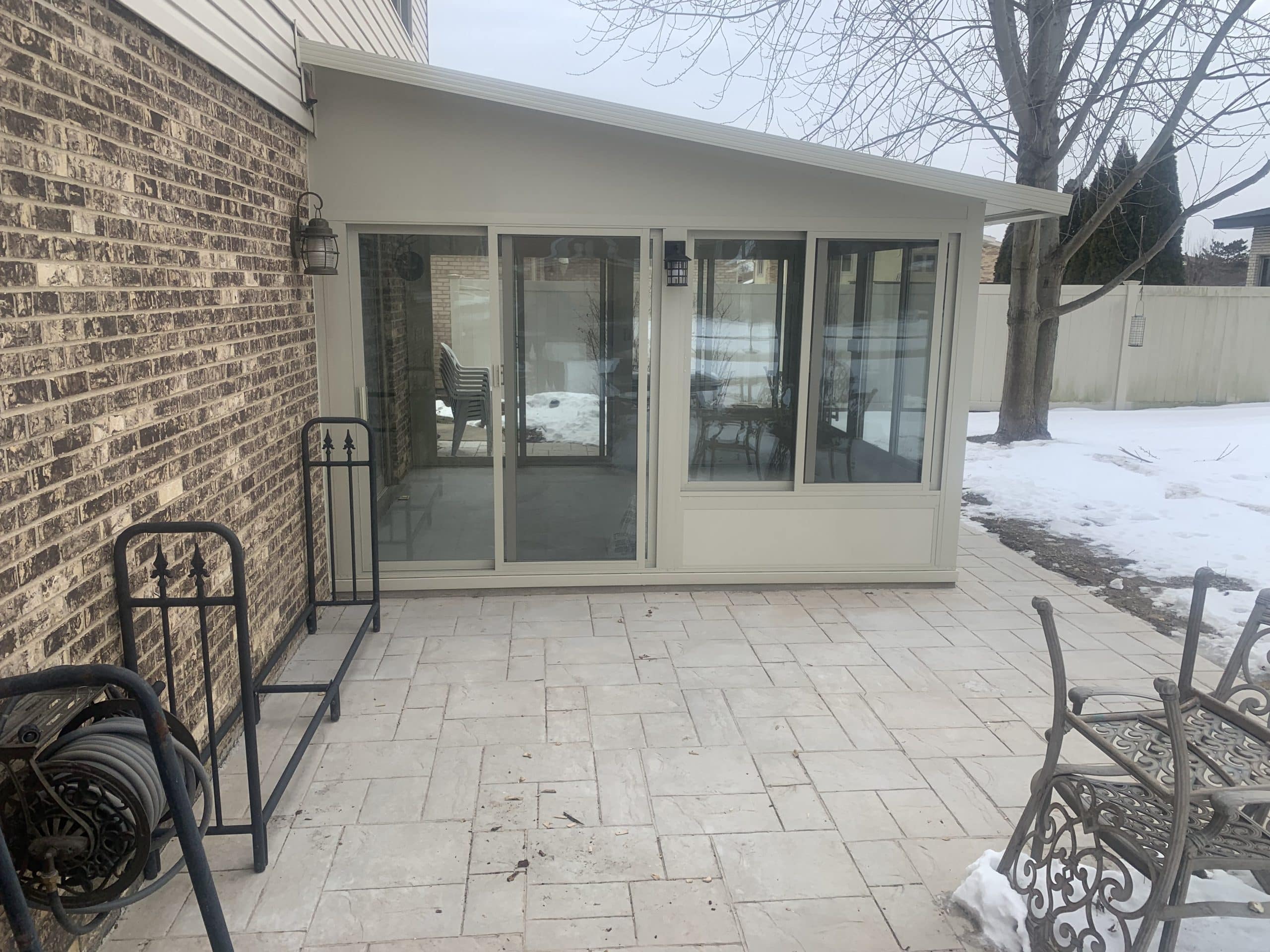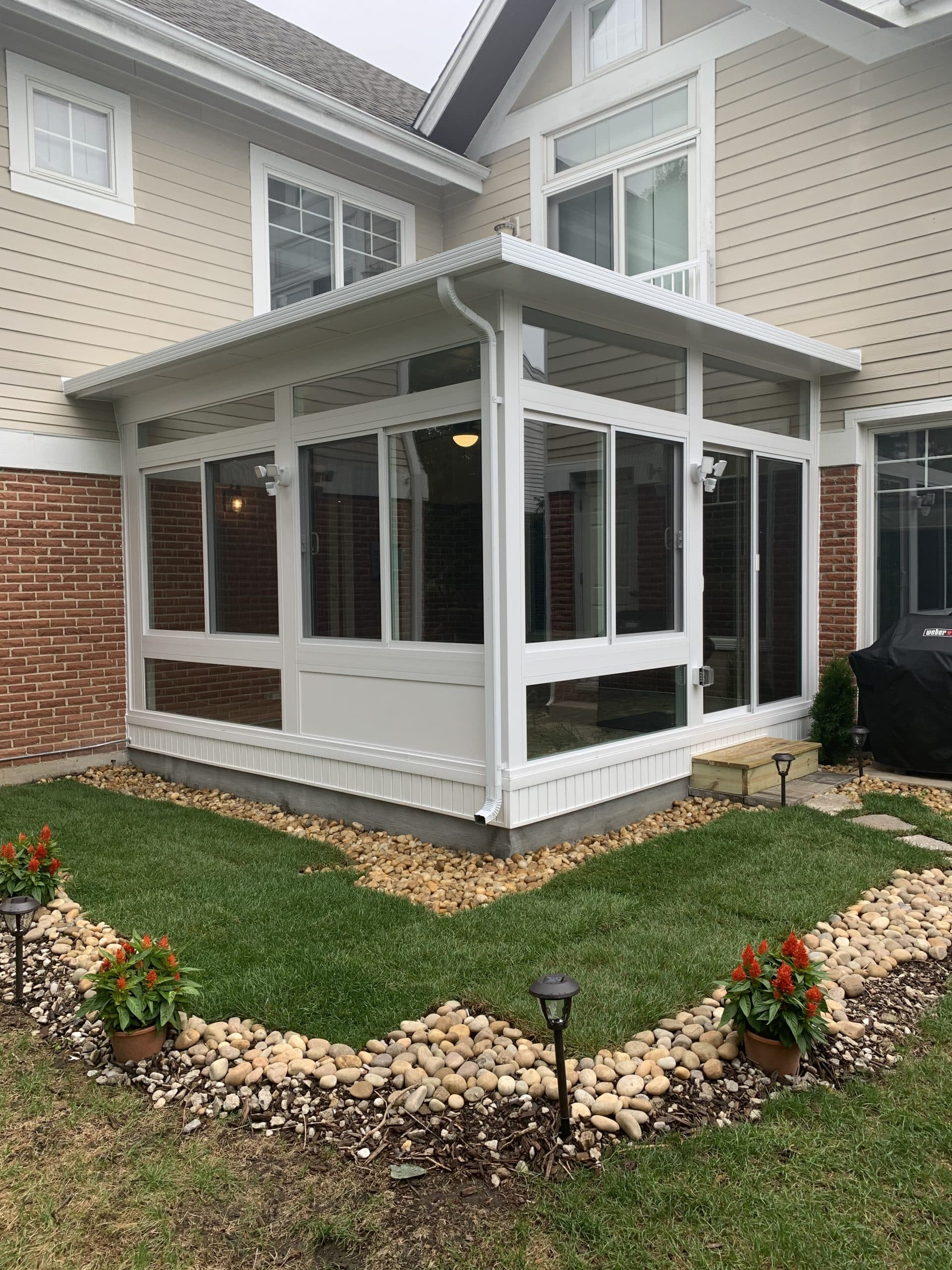 Make Sure to Hire a Professional
Unless you are fairly handy, you will want to hire a professional to build your sunroom. They will make sure they obtain the correct permits, and install the room correctly so that it meets safety standards. You can take a look at this post to find a reliable contractor near you.
Conclusion
Enclosing your porch deck requires good planning to maximize your return on investment. Not only will you add more living space to your property, but you will also add value to your home and have a new multi-purpose room. Start by determining what you are looking to accomplish by enclosing your patio or deck. Then you will need to decide if you want to pre-fabricate or custom-built sunroom. Depending on your lifestyle, you'll need to choose between a screen room, three-season, or four-season room. Finally, get a quote from a reputable contractor that can give you a realistic idea of what you are looking for will cost.
Envy Home Services is a premier porch enclosure contractor serving Illinois residents. We have been veteran owned and operated since 2006. Check out our Gallery for before and after pictures of completed past projects.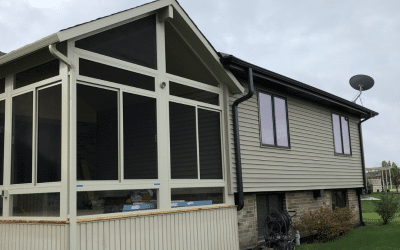 New Lenox, IL Enclosed Patio Before & After Photos New Lenox, IL Enclosed Patio, completed 2019. These homeowners had a concrete patio leading to their living room. They were interested in building a screen room with a gable roof. We removed the concrete in front...
Schedule a Free Consultation Today
To see the talented Envy Home Services team transform your underused or outdated space into the sunroom, kitchen or bathroom of your dreams, reach out today. We offer free estimates and no-pressure consultations, so give us a call at 888-864-0433 or fill out our online form to get your project started!