Pre-fab vs. custom-built sunrooms are a choice that many homeowners looking to add a sunroom must consider. Many people ask us why we don't provide sunroom kits, which are usually cheaper and easier to install. The simple answer is that custom-built sunrooms offer our clients tremendous flexibility in design. Not only do sunroom kits offer limited options, they are also difficult to adjust for electrical and plumbing. We understand that not everyone wants a custom-built sunroom, however, and have outlined some of each's pros and cons.
What is a Pre-Fab Sunroom?
A pre-fab sunroom comes in a kit that contains all the framework, wall panels, and roofing pieces. Generally, these kits use aluminum or vinyl for the components. While sunroom kits are usually less expensive than custom-built sunrooms, they have significant downsides. There are limits in your choice of designs, colors, and other customization features. In addition, styles available may not complement your house well and look out of place. Prefabricated sunrooms often involve compromise in your vision of how your sunroom should look.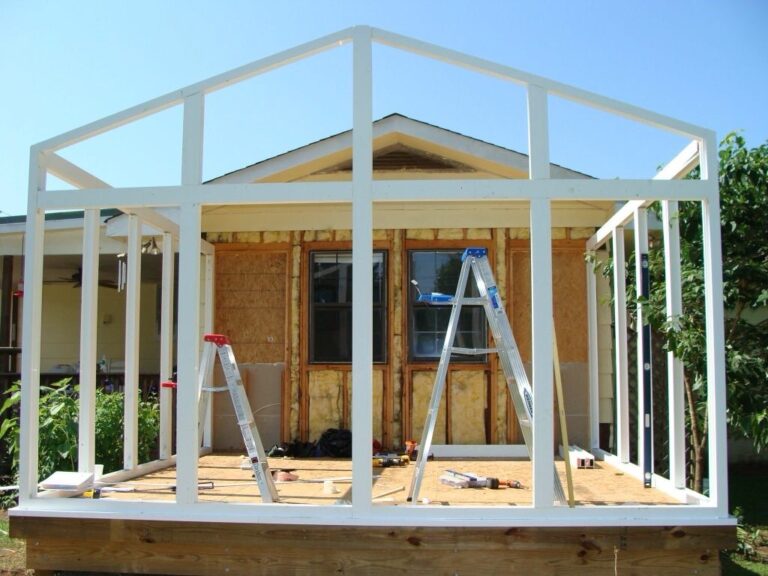 Are DIY Sunroom Kits a Good Idea?
Some homeowners will choose to build the sunroom themselves with a DIY kit. These kits often include windows, screens, doors, and roof panels, as well as detailed instructions. However, they can require a significant amount of time on the homeowners' part to assemble. In addition, the tend to come in very standard designs with few options outside of color preferences.
Also, building a sunroom from a kit is an advanced DIY project. Nothing is worse than pouring new concrete foundation only for it not to set correctly!
Be sure you are aware of the zoning laws in your area to ensure you meet all the requirements and have all the necessary permits to extend your home. Remember, to remain compliant with local regulations, you may need to hire a professional electrician to work with you on some of your pre-fab sunroom.
How Are Custom-Built Sunrooms the Better Option?
In our experience, when it comes to pre-fab vs. custom-built sunrooms, custom-built are the way to go. Custom-Built sunrooms offer the most flexibility and options. A reputable contractor can design and build your sunroom up to your exact specifications. A contractor can advise you on the sunroom style to meet your needs and if the location you have chosen for the sunroom can accommodate the structure. The contractor will be familiar with local building and zoning laws and take care of the building permits and arrange inspections for you on your behalf. 
The contractor will have you choose between a few different styles, including:
A custom-built sunroom offers you the design flexibility to create any size or layout you want. The exterior walls can be finished in the same material as the rest of the house or something that complements it. You have the option to add lighting, flooring, heating, fireplaces, wood stoves, air conditioning, and other extras for a tailor-made sunroom.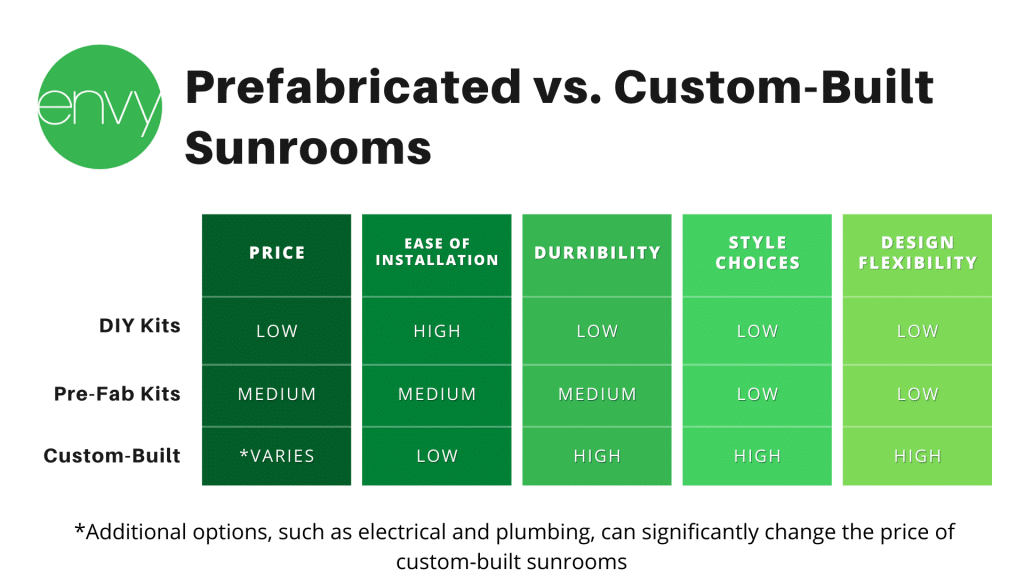 Conclusion
Choosing a custom-built sunroom will give you precisely what you want in a sunroom, along with the benefit of working with a skilled professional. You can ensure that your sunroom will be structurally sound and leak-proof. Any extras you choose, such as plumbing and electrical, will be installed appropriately. All permits will be taken care of and filed correctly. Valid permits mean that in the future, if you choose to sell your home, you won't have to try to prove the sunroom was built up to code, or worse, tear it down completely.
Envy Home Services is a Chicagoland-based sunroom contractor. We offer a range of sunroom addition and renovation options, each of which is custom-made. In addition to sunrooms, we offer kitchen and bathroom renovations, basement finishing and a host of other remodeling solutions.
Schedule a Free Consultation Today
To see the talented Envy Home Services team transform your underused or outdated space into the sunroom, kitchen or bathroom of your dreams, reach out today. We offer free estimates and no-pressure consultations, so give us a call at 888-864-0433 or fill out our online form to get your project started!