The Best Enclosed Porch Contractor Serving Northern Illinois Residents
Envy Home Services is a veteran owned and operated enclosed porch contractor. Our services have been available in the Chicagoland Area since 2006. We have an exclusive contract to install Betterliving™ Craft-Bilt sunrooms. We can transforms your underutilized patio or porch into a beautiful, functional space.  sunroom products, we can transform your underutilized outdoor space into a beautiful, functional enclosed space.
Quality Porch, Patio & Deck Enclosures
Envy Home Services can easily enclose an underutilized porch, patio, or deck. In addition, our skilled technicians can transform this space to protect you from the wind, rain, snow, and bugs.
As an industry-leading enclosed porch contractor, Envy can help you enjoy being outside with the comfort of being inside. Depending on your preference, we can add screens, air conditioning, heat, and other convenient features to this addition. We listen to your needs and work with your budget. You will love how your new sunroom seamlessly integrates into your home's existing aesthetics.
Professional, Fully Insured Installation Service
First, you might have seen kits or DIY sunrooms on the market. However, enclosing a porch is more difficult than you might think. First, many contractors will fail to pull the right permits, use inadequate materials, or simply do not have the skill to finish the project correctly. Save yourself significant hassle and hire a professional.
Envy Home Services is considered Chicagoland's premier sunroom contractors. Furthermore, we offer only professional grade installation services. In addition, we will help you avoid messy, expensive failures when it comes to your sunroom project. We offer a 100% satisfaction guarantee to each of our customers, and a one year labor guarantee.
We operate in the Chicagoland Area, including Naperville, Schaumburg, Hoffman Estates, Joliet, and Arlington Heights. Check out our reviews and follow us on social media!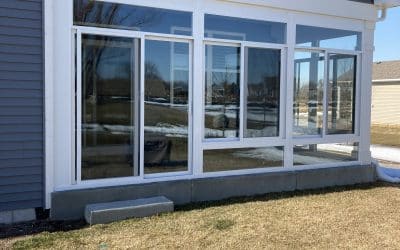 North Aurora, IL under existing sunroom, completed 2021. These homeowners had a patio area that are featured on many North Aurora houses. They wanted to enclose this patio to create a space that is comfortably temperature controlled all year long. Before Pictures See...