FAQs
Here are some frequently asked questions we receive. If you have any questions, please ask your Project Consultant or call our office at 888-847-2531.
What does the free in-home consultation entail?
We when come to your home, we will talk with you first about your home remodeling project and what you're looking for. Then, we will get measurements if needed, and then go over style and color options and price ranges.
What does your warranty cover?
We have a 50-year limited warranty on all of our sunroom products.
About how long does it take to install your various products?
This really depends on the project you have purchased. Once the work order is signed and all details are ironed out, our Professional Sales Consultant will review the timeline of your specific project.
Do you hire sub-contractors or do you have your own employees that will do the work?
We use a combination of licensed, insured & background-tested contractors along with Envy employees to ensure the best quality installation on each individual project.
Do I need to come to the showroom in order to get my project started?
No. When you sign up for a free in-home consultation, our home improvement experts will come to your home and consult you on the various products, materials, colors, etc. we carry.
How much will a new sunroom, kitchen or bathroom improve the value of my home?
That depends on the particular project. A recent survey by the National Association of Remodelers reports that a sunroom retains 92% of its value. The energy efficiency of windows will be a value all its own. And of course the kitchen is what most people look at first when deciding to purchase a new home.
Will you leave my house and yard a mess after installing your products?
No – All of our Envy Certified contractor's and Envy employees will be courteous and professional and will clean up any debris or left over materials from your home.
Are your sunrooms and windows energy efficient?
Yes! All of our products we use are energy efficient. When you choose Envy sunrooms and windows, you know you're getting energy-efficient products that help reduce the transfer of heat, so your house requires less energy for heating and cooling. GO GREEN WITH ENVY!
Do you offer financing?
Yes! Envy Home Services now offers 365-DAY SAME AS CASH financing! Sign up for a free no obligation in home estimate and find out how you can finance windows, sunrooms, roofing, siding and more with Envy Home Services.
Is Envy Home Services licensed, bonded and insured?
Absolutely! We are licensed contractors, bonded and insured fully as well as our employees.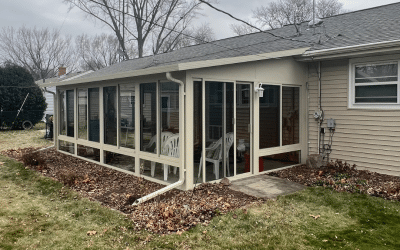 East Dundee, IL three season sunroom completed in 2022. These homeowners started with a classic lean-too style plexiglass sunroom. These style of sunrooms are freezing in the winter and sweltering in the summer months. We tore down the old sunroom, build a new...