Turning your deck into a sunroom is an excellent way to increase your functional living space. Think through your decision so you know what you're trying to accomplish. There are no wrong reasons for wanting to build a sunroom. We recommend starting with why you want to turn your deck into a sunroom, then moving on to what kind of sunroom you want to build.
Where to Start
Any successful remodel starts with finding the "why." Without a clear understanding of why you want to tackle a home improvement in the first place, you can't adequately plan your project or commit to it from beginning to end. You might have a clear reason why you want to turn your porch into a sunroom, but here are some tips if you are struggling.
Write Down Your Motivations
There are many benefits to enclosing a porch, but be clear with what you are looking to gain out of turning your deck into a sunroom. The value of this step is having transparent intentions so that you and the other members of your household are on the same page. Try jotting down every single reason why you and anyone else who has an opinion on this project might want to go forward with it. Some questions to ask yourself are:
What will this space be for?

Are you hoping to increase the value of your home?

Is your family growing or planning to grow?

Are you making a lifestyle change, such as working from home?
Think Ahead
Most of us renovate to improve our current way of life. However, keep in mind that not all remodels are logical or suitable for every person or situation. Consider how long you plan to stay in your home. If you see yourself moving within a few years, you may not get a great return on your investment if you overspend on your remodel. You run the risk of not recouping the majority of your expenditure when you sell your property. That said, if you plan to stay in your home for several more years, you will get a better value out of a sunroom addition if you make it exactly the way you want.
Why You Might Want to Turn a Deck Into a Sunroom
The first thing you should think about is how much use your porch currently gets as is. If you use your patio frequently or intend to use it more in the future, turning it into a sunroom is a great idea. The area can serve as an additional living space that is perfect for gathering and family functions. The design of this space will depend on how you plan to use it.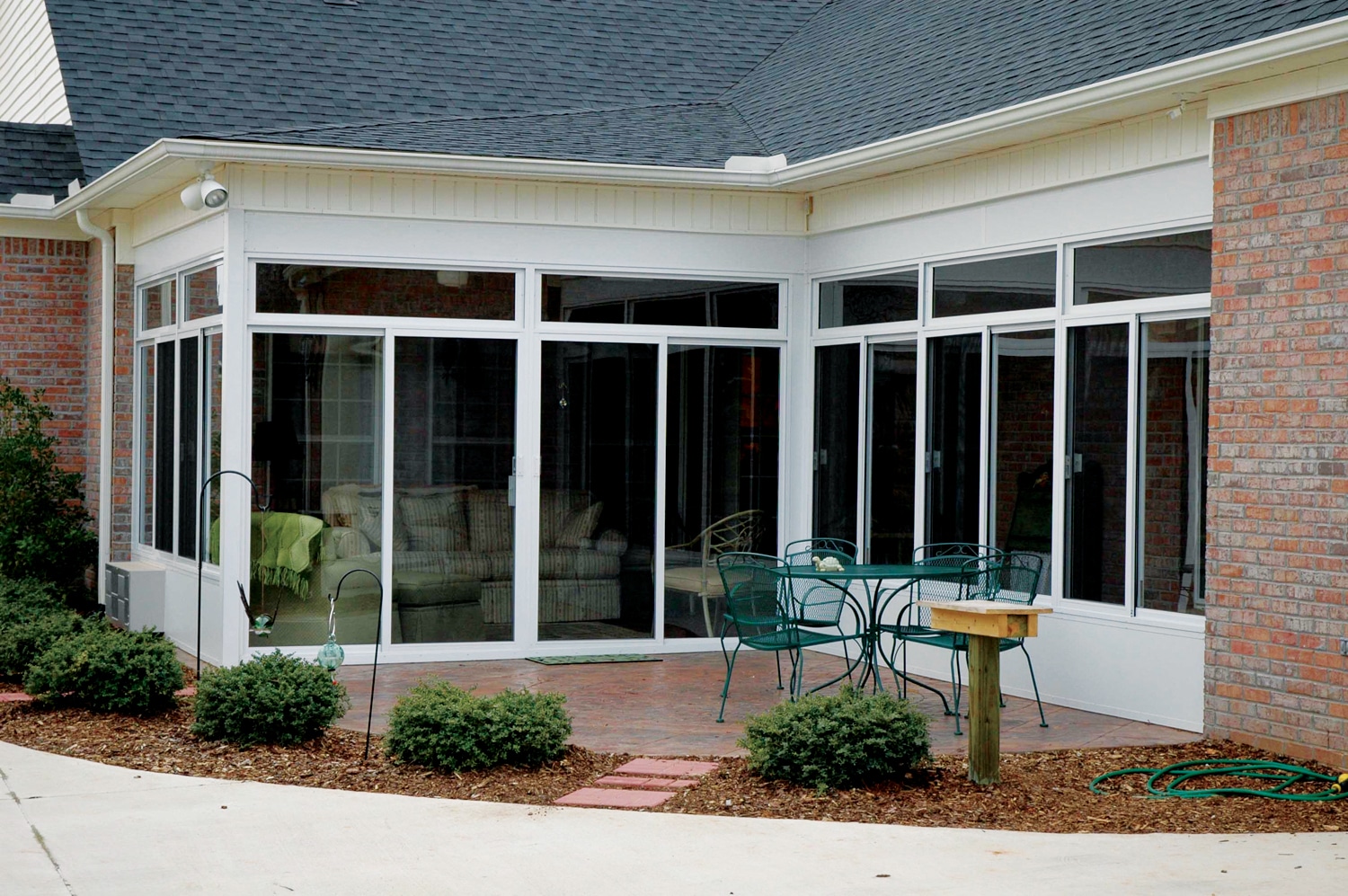 Maximize the Space You Have
Add more living space to your home. By converting an existing deck into a sunroom, you do not have to encroach on your yard space. Enclosing your deck offers additional multi-purpose living space. You can use this space as a recreational room, a home office, a family room, or even a green room!
Adding Value to Your Home
There is monetary and personal value to be gained from turning your deck into a sunroom. The additional square footage a porch enclosure offers will increase the value of your home. Additionally, you gain privacy from neighbors while allowing you to enjoy the beauty of the outdoors. When the weather is unpredictable, an enclosed porch offers protection from both heat and cold. Depending on the sunroom you choose to build, you can use this space for up to four seasons of the year.
What Kind of Sunroom Should You Build Over Your Deck?
There are several options you could choose to build over your deck. The first thing you should consider is if you want to go with prefabricated or custom sunrooms. Check out this article for more information on pre-fab and custom-built sunrooms. The main idea is this:
 

Pros

Cons

Prefabricated

Materials are cheaper because they are mass-produced 

Engineered to be easy to assemble – a professional can do it in a few days

You could do the assembly yourself to save on labor costs

Less clean up as there is no need to cut anything

It can be frustrating and lengthy to build yourself if you have never attempted it before

Limited customization options

It may need replacing at some point, depending on how long it is meant to last

Custom-Built

Limitless design options – such as plumbing and electrical access

Perfectly integrate it into the silhouette of your home

High quality and will last for many years

More extensive work needed, which can take longer

Higher costs associated with material and hiring more skilled contractors
Safety & Security
Whether you choose to go with a pre-fab or a custom-build sunroom, you want to know the addition will be safe and secure. Be sure the windows feature tempered glass for those unforeseen accidents. Tempered glass will shatter into tiny pieces to minimize serious injuries. Consider the entryway as well. There will likely be a door that leads to the outside. This door needs to be able to lock and prevent break-ins.
3 Season vs. 4 Season Sunroom
You might choose to build a 3 season or a 4 season room over your deck. The choice comes down to how much you plan to use this space. A three-season room is perfectly comfortable in the midwest during the spring through fall months. A three-season will have a good cross breeze and protection from the cold. A four-season or all-season sunroom is insulated and comes at a higher ticket price. An all-season room can be used year-long like any other room in your home.
Screen Rooms
A screen room is an enclosed space that is similar to the three-season room. The difference is the windows are swapped out for screens. With the proper planning, you can choose to build a screen room that converts into a three-season room later. You'll want to consult with a sunroom contractor to determine if this is an option for the screen room you choose.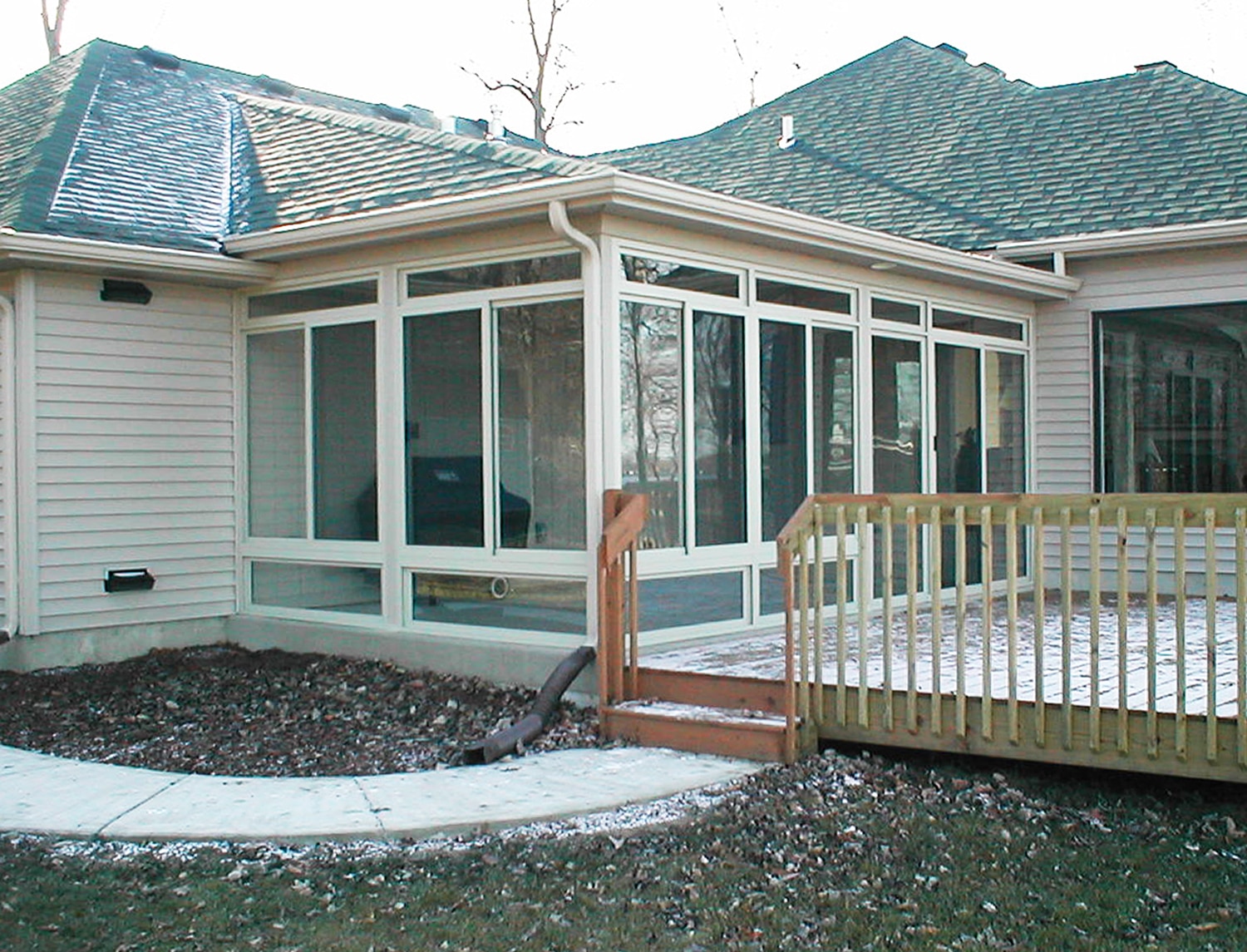 Conclusion
Turning your deck into a sunroom requires good planning to maximize your return on investment. Get started by determining what you are looking to accomplish by enclosing your patio or deck. Write down your motivations and discuss them with anyone who might help you make this decision. Think ahead to how long you plan to stay in your home and if the investment is worth it. 
Everyone's reasons for wanting a sunroom are different. A sunroom will maximize the space you have and add value to your home. Consider your sunroom options before scheduling a quote from a professional. Choosing a prefabricated sunroom will save time and money but will not offer the customization and longevity of a custom-build addition. Think about security, safety, and how much of the year you'd ideally like to use the space.
Envy Home Services is a veteran-owned sunroom contractor for the Chicagoland area. We offer Craft-Bilt brand three and four-season sunrooms, patio enclosures, screen rooms, and room additions.
Schedule a Free Consultation Today
To see the talented Envy Home Services team transform your underused or outdated space into the sunroom, kitchen or bathroom of your dreams, reach out today. We offer free estimates and no-pressure consultations, so give us a call at 888-864-0433 or fill out our online form to get your project started!