Craft-Bilt sunrooms offer beauty, functionality, energy efficiency, and ease of use. Craft-Bilt is an American-founded company that produces all our BetterLiving Sunrooms. Envy Home Services has been in partnership with them for over 20 years because we want to offer our customers only the highest quality options for their sunroom additions. In addition, we offer expert-trained installation of these sunrooms that are sure to stand the test of time. Furthermore, all our sunrooms come with a 12-month labor warranty because we stand by the work we do.
What is a Craft-Bilt Sunroom?
Craft-Bilt sunrooms are a glass and screen outdoor living space installed over a wood or concrete foundation. These rooms are also called a patio room, patio enclosure, or screen room. Not only will the glass walls allow the sunlight to stream in but also keeps the wind, rain, and bugs out. In addition, the sunroom is custom-designed to fit the style and look of your home. Depending on the type you choose, your sunroom can be a 3 season or all-season room, impacting your enjoyment and the resale value of your home.
Why Do We Choose Craft-Bilt Sunrooms?
Craft-Bilt is a leading sunroom manufacturer. Additionally, Craft-Bilt was the first to produce a fully engineered aluminum and glass patio room in 1986. However, as building codes changed, Craft-Bilt began building fully insulated vinyl sunrooms. The Craft-Bilt Sunroom line, Betterliving Sunrooms, is nationally recognized.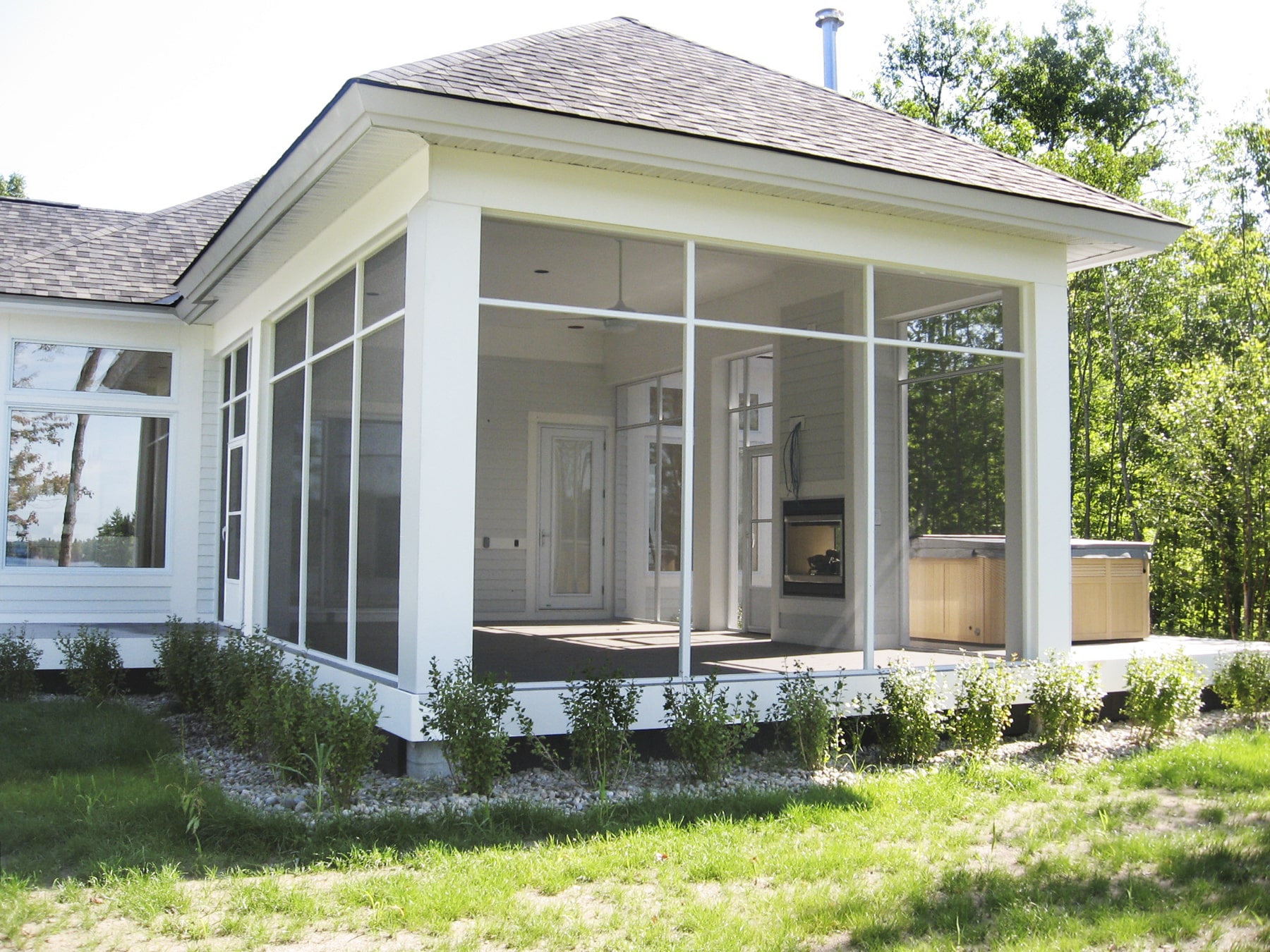 Why Do Our Customers Love Craft-Bilt Sunrooms?
As our Home Advisor Reviews will tell you, our customers love their Craft-Bilt Sunrooms. They know that the Betterliving line from Craft-Bilt offers superior quality and craftsmanship, but what they love most is the wide range of customization options. All our Craft-Bilt Sunrooms allow for many choices regarding doors, transoms, ceiling planks, and skylights.
What Sets Craft-Bilt Betterliving Sunrooms Apart?
Craft-Bilt Betterliving Sunrooms offers superior quality across the product line. Also, they take care to make sure small details are taken care of so that they can provide an astonishing lifetime manufacturing warranty.
Thicker Sunroom Walls
Betterliving sunroom walls are between 3″-4 1/4″ wide to provide more stability and strength. Many sunroom wall systems are only 2 inches thick, which offers little space for insulation and resilience.
Patio Doors are Custom Built
Each Betterliving patio door ensures a perfect fit. Other sunroom companies will outsource their patio doors, which results in a poor fit. Often, an outsourced patio door is too thick for the wall, or there is a gap that can not be fully closed.
Aluminum Screens
Anyone who has had experience with standard screens can tell you they are a pain once they start tearing. Betterliving Sunroomscreens are aluminum, which lasts longer and won't rip like fiberglass.
Clean Integrated Design
Betterliving Sunrooms match the style of your home. The windows are door sections join together seamlessly, so the thresholds look clean and smooth. Other sunroom manufacturers will join the two together with a visible 'H' channel or a filler panel, which looks unsightly.
Tempered Glass Windows and Doors
Betterliving Sunrooms include tempered safety glass standards, an option in other sunrooms. In the event of an accident, the glass breaks into tiny, harmless pieces. Tempered glass is far safer for children and pets or more accident-prone adults.
Conclusion
Envy Home Services has partnered with Craft-Bilt for over 20 years because they are the leading manufacturer of superior quality sunrooms. Additionally, the Betterliving Sunroom line is nationally recognized and offers a lifetime manufacturing warranty. Our customers love their Craft-Built sunrooms because they can fully customize them to match their home's style and individual tastes. Furthermore, Betterliving Sunrooms offer many additional features over other sunrooms, as well as outstanding customer service. You can't go wrong with a Craft-Bilt Sunroom!
Envy Home Services offers custom sunroom additions to the Chicagoland Area. We cover areas like Arlington Heights, Algonquin, Naperville, Bolingbrook, and Chicago. Contact us for a free quote today!
Envy Home Services has quality sunroom options for Chicagoland homeowners. To learn more or to schedule a free consultation with our expert sunroom contractors, call 888-847-7954 or fill out our online contact form.