Home additions are one thing many families are considering now that many of us are working from home. Whether you are looking for a home office or lounge space, a room addition can help with your lack of space. That said, you'll need to start by consulting a home addition architect.
Building a Room Addition or Sunroom
The difference between an addition and a sunroom is how the structure is built. Room additions are built with wooden framing, while a manufactured sunroom is made of aluminum or vinyl. In either case, you are changing the footprint of your home – which means you will need a permit. This is why you must hire an architect, or ensure that the company you hire works with an architect on your behalf.
Hire A Reputable Architect
A reputable room addition company will have an architect on retainer. However, if you are doing more of a DIY project, make sure you properly vet your architect first. You will need to pay them for the design, but don't be quick to balk if they ask you for what seems like a lot. Hire an architect that has experience in your kind of work, and isn't going to design you something extremely expensive just to pad their portfolio. Make sure they understand what you're looking for, and ask them to design something reasonable.
Permit Restrictions
You will need a permit to change the outside of your home. Do not think you can simply hire a contractor or buy a kit and add to your property. Your contractor or whoever is doing the labor should apply for the permit. Your village will need a copy of your plat (which you would have gotten when you purchased your home) along with an application and architectural designs of what you plan to do. The office will either approve your application, require you to change something, or outright deny your request. After the work is done, a building inspector will come out to approve the structural integrity of the addition.
Be Aware of Homeowner Association Regulations
Many neighborhoods have Home Owners Associations. You may need to check with them about various aspects of the room addition that will need to be communicated to the architect. You may be even more restricted if you own a home in a historical district. Some of these restrictions can be related to:
Safety Regulations (such as lighting)

Architectural Style

Window Placements

Paint Color
Envy Home Services is a premier sunroom contractor serving Illinois residents. We design and build custom sunrooms and room additions based on your specifications. We retain a home addition architect for all our projects, and apply for the permit on your behalf. Check our some of our past work in the Gallery!
More Room Additions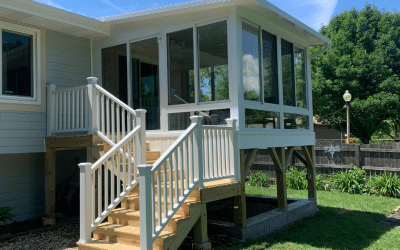 Did you know you can add a sunroom on a raised deck? Many of the homes we work on in the midwest are split-level, with few entrances on the ground floor. However, most split-level homes have a deck with stairs leading to the backyard. You can often transform your...
Schedule a Free Consultation Today
To see the talented Envy Home Services team transform your underused or outdated space into the sunroom, kitchen or bathroom of your dreams, reach out today. We offer free estimates and no-pressure consultations, so give us a call at 888-864-0433 or fill out our online form to get your project started!