Planning an affordable kitchen remodel can seem like a daunting task. Not only do you have to decide what you want the kitchen to look like, but you also have to plan out your budget and hire a reputable contractor to do the work. A kitchen remodel is a great way to add value and functionality to your home, but the costs can quickly add up if you're not careful. That said, you can still achieve your dream space while getting your money's worth. We made this guide to help you plan an affordable kitchen remodel that will meet all your expectations.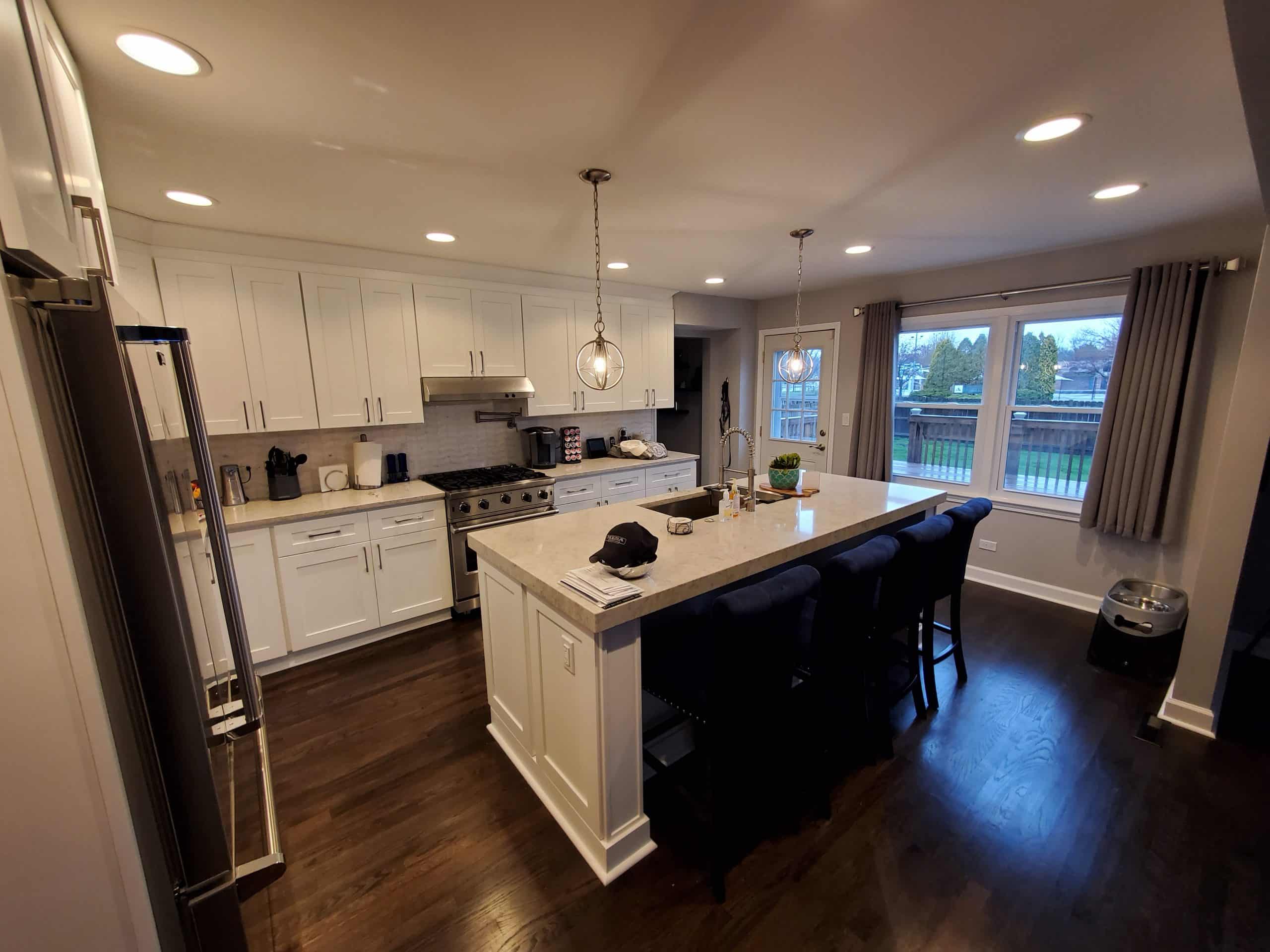 Where Does Your Money Go in a Kitchen Remodel?
When planning your kitchen remodeling budget, it helps to know where most of your money will go. The most significant expense in any kitchen remodel is the cabinets. According to Home Advisor, the cost and installation of custom cabinets are $700 per linear foot. However, this cost can vary significantly depending on if you choose a more difficult material to work with, such as steel cabinets. You can save more if you choose to reface your cabinets instead, which can be from 30%-50% cheaper than new cabinets.
The cost of countertops can vary wildly, from $25-$120 per square foot for materials and labor. Your choice of material will influence the price, which we will cover in more detail below. Backsplashes can be a sneaky kitchen remodeling expense. Glass tiles are pricer than ceramic while choosing a custom pattern will cost more labor-wise. You can expect to pay between $25-$36 per square foot of materials and at least a few hundred dollars for labor. 
Kitchen flooring has to be durable to stand up to all the kitchen traffic. That means your choices are somewhat limited to wood, laminate, linoleum, or ceramic or stone tiles. The average cost of flooring is between $6-$22 per square foot installed. We assume here that you do not need any repairs to the subfloor or joists.
Measure Your Kitchen
Getting an idea of the size of your kitchen will help you plan your budget. Check out this guide to help you measure your kitchen. Traditional kitchens have around 30-40 linear feet of cabinets and approximately 30-45 square feet of countertops. With the popularity of open concept kitchens, flooring can vary if you want the same material to run into another room, such as a dining room. Expect your flooring to be around 100-200 square feet. Note that it is unnecessary to calculate the flooring under the cabinets if you do not plan to replace them.
Choose Style, Color Pallet, and Materials
Your choice of materials will affect the cost, but do not choose cheap materials if you want a quality renovation. It might feel overwhelming how many choices there are. We recommend starting with the style, then selecting a color pallet and materials. 
Style
Kitchens are the heart of the home and where people spend the most time. Think back to the last time you had a party. Did everyone go to sit in the living room, or did they congregate in the kitchen? From our observation of past customer remodels, the styles we see most often are Country Farmhouse, Modern, Eclectic, Contemporary, or Traditional. Check out our gallery to see some of our most recent kitchen renovation projects.
Color Pallet
Once you have narrowed down which style you want to go with, choose your color pallet. Each style lends itself to a different color pallet. The basic idea is to determine if you're going to go with warm colors, cool colors, monochromatic, or high contrast. The color pallet you choose will help you when you go to pick out your paint and backsplash colors.
Materials
The materials you choose will influence not only how much your remodel costs but will determine how much of your effort is required to maintain the kitchen. Selecting materials that visually appealing but nonfunctional will only make your life more frustrating. Think about ease of cleaning and if regular maintenance is needed, such as sealing a granite countertop.
Choose a Professional
Your kitchen is too important to DIY; unless you are a carpenter or have other similar skillsets. Additionally, kitchen remodels can take months from start to finish. You do not want to risk being without your kitchen for an extended period by starting the remodel yourself and then being unable to finish it. When you have a rough idea of what you want your kitchen to remodel to look like, research professionals near your area to do the labor. Hiring a professional will help you avoid costly errors and save you significant time. Check out their reviews to make sure they are reputable, and ask them about permits and licensing.
Stage the Project vs. Remodeling All at Once
Most people choose to do their kitchen remodel all at once for several reasons. Sometimes there is no choice but to do the remodel all at once. Doing a kitchen remodel in one shot is indeed cheaper, as you only pay for a construction crew to come into your home one time. The all at once method also takes less time. However, staging the project might be the way to go.
Staging a kitchen remodel means performing the labor done in stages. The staging method allows you to pay for your remodel in chucks, spreading it out over months or even years. Staging is only a viable option if:
You do not need any significant layout changes

You are planning to keep your cabinets or reface them

You plan to bring the flooring up to the cabinets, rather than underneath them
The benefit of staging the project is that each step can be quickly compared to a major kitchen remodel. Your kitchen is also usable after each step. The order of operations for a staged kitchen remodel is:
Countertops & Backsplash > Cabinets > Flooring
Countertops & Backsplash
Ideally, you want this remodel to last a long time. Perhaps this is the last kitchen remodel you might ever do in your home! You want to choose colors and timeless styles, but you also want to account for durability. Your countertops take a beating, so choosing something that will last is essential. Quartz countertops are often pricer than granite, but they require less maintenance. Granite countertops offer a more natural stone look but have a lower tolerance for high heat and require regular sealing in most cases. Take into account ease of cleaning and style when you choose your backsplash. Check out the 10 Dos and Don'ts of a Beautiful Kitchen Tile Backsplash to help you. 
Sinks & Fixtures
When you replace your countertop, note that you will likely need to replace your sink simultaneously, as the old one will not survive the tear-out. Kitchen sinks come in single-basin, double-basin, and two-bowl/one-bowl configurations. Consider the size of your cookware and the layout of your kitchen to pick the right one. Note that if the new sink is deeper, you may need to modify the existing plumbing. The most common choice for sinks is an apron or farmhouse sink, drop-in, under-mount, or corner sinks. Choose quality fixtures and accessories. The last thing you want is to complete your kitchen remodel and then struggle with constantly repairing a cheap garbage disposal.
Cabinets
After the countertop, you should consider the cabinets. The cabinets will make up the majority of your renovation budget. New cabinets allow you to make significant layout changes or switch to open cabinets. You'll choose which door style you like based on the style you decided on earlier. A more complex door front will cost a little more than a simple shaker style. Also, think about what you plan to do with the corners if your kitchen is L or U shaped. You might want to swap out a blind corner cabinet for one with a lazy Susan or drawers to make it more accessible.
You can make a kitchen look brand new by refacing the cabinets. 
Refacing your cabinets leave the layout pretty much the same but will allow you to change the door and drawer style and colors. You can determine if your cabinets can be refaced if they are:
Generally in good shape, but you don't like the color or style

The insides of the cabinets are fine

You are happy with the kitchen layout
Take a look at this guide to help you decide if you should replace or reface your kitchen cabinets.
Flooring
The last essential piece to a kitchen remodel is what to do about the floor. Not all flooring can be used in a kitchen effectively, as there is always the risk of water damage. You want to consider how much foot traffic your kitchen gets to ensure it can endure the amount of cleaning needed. We recommend choosing either treated hardwood or luxury vinyl planks (LVP) if you want the look of wood. If you choose tile flooring, either ceramic or stone, note that the grout will need regular sealing to prevent staining. Use this flooring guide for more information about choosing the best kitchen flooring for you.
Lighting
The lighting is the finishing touch that ties up a kitchen remodel. Kitchens require adequate lighting to be functional. Simply updating your light fixtures can transform a space to look visually appealing. Under-cabinet lighting, for instance, can make a significant impact without affecting your budget. Pendant lights offer an accent, although they do not add too much actual light.
Conclusion
Planning an affordable kitchen remodel is well worth the effort. Knowing what to expect can help ease some of the anxiety you might have about transforming your kitchen. Have a realistic idea of the cost of labor and materials. Measure your kitchen before gaining quotes to help you calculate what your kitchen remodel will approximately cost. Choose your style, color pallet, and materials before researching professionals for the labor. 
Decide if you plan to do the renovation all at once or if you want to stage the project to make it more affordable. Consider durability and maintenance when choosing your countertops and backsplashes. If you plan to change the layout, determine which changes might improve the function of the space. Decide if you want new cabinets or if you plan to reface your current cabinets. Choose a durable floor, and consider your plan for the lighting. No one ever wishes they had done less planning when it comes to home renovations!
Envy Home Services is a premier kitchen and bath remodeling company. We are veteran-owned and have been in business for over 20 years. We offer our services to Chicagoland North Suburbs, including Arlington Heights, Hoffman Estates, Schaumburg, Mount Prospect, and Palatine.
Schedule a Free Consultation Today
To see the talented Envy Home Services team transform your underused or outdated space into the sunroom, kitchen or bathroom of your dreams, reach out today. We offer free estimates and no-pressure consultations, so give us a call at 888-864-0433 or fill out our online form to get your project started!