Elevate Your Hoffman Estates Home
Envy Home Services is your trusted partner for all your home remodeling needs in Hoffman Estates. With a commitment to excellence, we specialize in sunroom additions, bathroom remodels, and kitchen renovations, transforming your house into the dream home you've always envisioned. As a veteran-owned and operated business, we bring integrity, dedication, and superior craftsmanship to every project we undertake. Additionally, we understand that home improvements can be a significant investment, which is why we offer flexible financing options to make your dream home a reality.
Exceptional Sunroom Additions
Imagine basking in the warm Illinois sun year-round without battling the unpredictable weather. Our sunroom additions are designed to seamlessly blend with your existing home, creating a beautiful space that's perfect for relaxation, entertainment, or even a home office. Whether you prefer a traditional or modern design, we have the expertise to bring your vision to life. We use top-quality materials and employ skilled craftsmen to ensure your sunroom is not only aesthetically pleasing but also energy-efficient and built to last.
Luxurious Bathroom Remodels
Your bathroom is more than just a functional space; it should be a sanctuary where you can unwind and rejuvenate. Envy Home Services excels in bathroom remodels, offering a wide range of design options to suit your style and preferences. From elegant fixtures and luxurious tiles to innovative storage solutions, we pay attention to every detail. Our team works closely with you to create a bathroom that not only meets your practical needs but also reflects your personal taste and enhances the overall value of your home.
Transformative Kitchen Renovations
The kitchen is the heart of your home, where family and friends gather to create lasting memories. Our kitchen renovations are tailored to your unique lifestyle, providing a functional and beautiful space for cooking, entertaining, and spending quality time with loved ones. Whether you desire a classic, contemporary, or eclectic kitchen, we have the expertise to make it a reality. We source high-quality materials and appliances, ensuring your new kitchen not only looks stunning but also stands up to the demands of daily life.
Veteran-Owned and Operated
As a veteran-owned and operated business, we bring the values of discipline, attention to detail, and a strong work ethic to every project we undertake. We are proud to serve our community in Hoffman Estates, and our commitment to excellence extends beyond our workmanship. We prioritize open communication, transparency, and exceptional customer service, ensuring that your home remodeling experience is smooth and stress-free from start to finish.
Flexible Financing
We understand that home remodeling projects can be a significant investment. To make it more accessible for our clients, we offer flexible financing options tailored to your budget and needs. Our goal is to help you achieve your dream home without compromising on quality or craftsmanship.
At Envy Home Services, we take pride in transforming houses into homes. Whether you're considering a sunroom addition, bathroom remodel, or kitchen renovation, our team is ready to bring your vision to life. Contact us today for a consultation, and let us show you how we can elevate your Hoffman Estates home to new heights of beauty, functionality, and value. Your dream home is just a phone call away with Envy Home Services.
See Our Work in Hoffman Estates, IL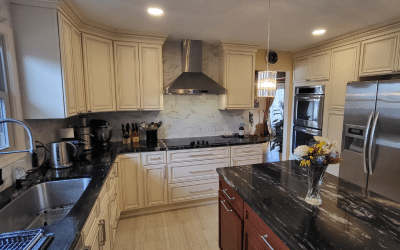 Hoffman Estates, IL kitchen renovation completed in 2022. These homeowners had an outdated kitchen with wood cabinets they wanted to refresh. We maintained the layout for the most part. We replaced the cabinets, countertops and flooring, and installed a custom tile...