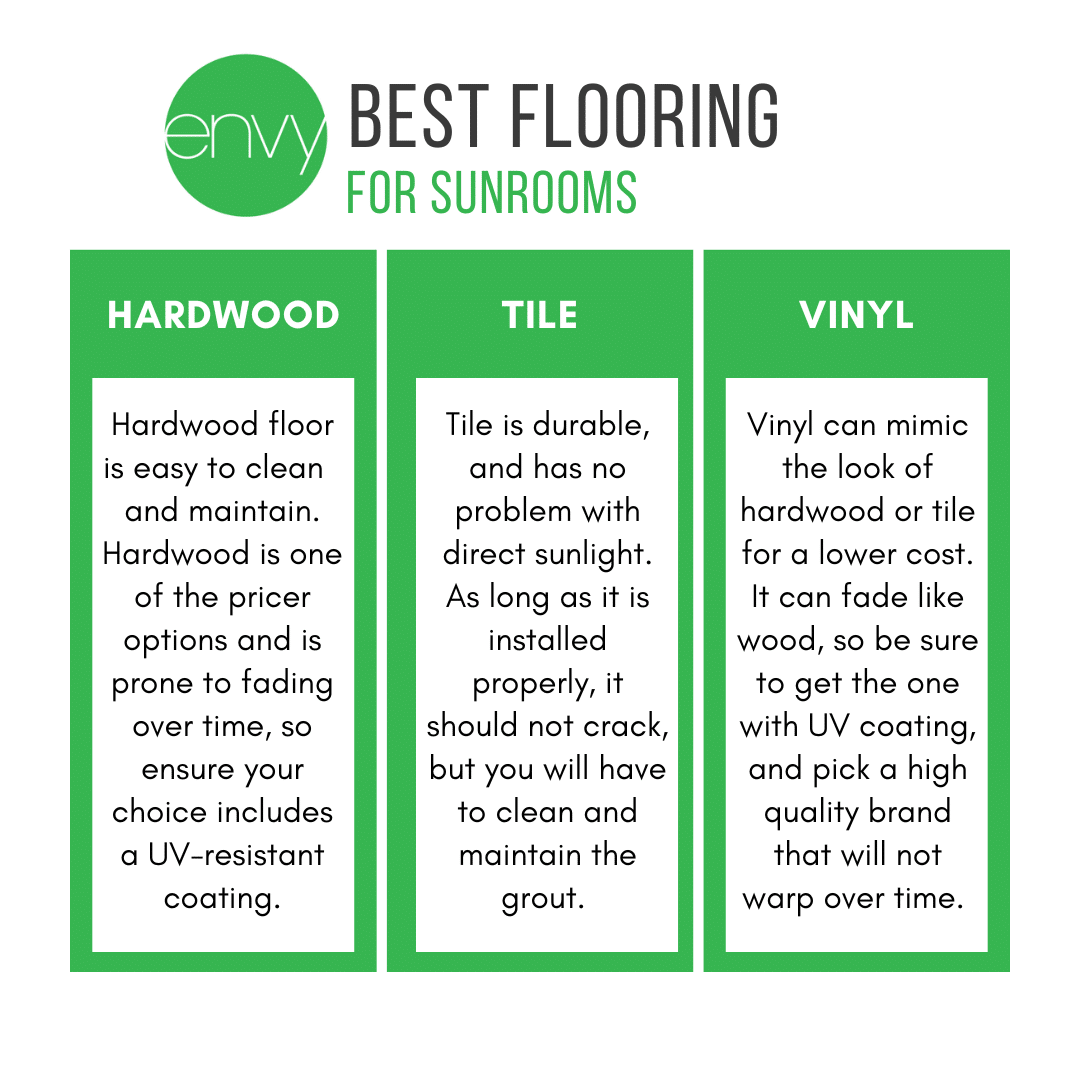 Flooring is one of the best home improvements you can make before selling your home. You want to make a good choice of flooring for your sunroom where you have to deal with heavy traffic and lots of direct sunlight. That said, we have outlined some of the best flooring options for sunrooms.
Hardwood
Hardwood is a classic flooring option that is timeless and stunning. A sunroom with a hardwood floor will be easy to clean and maintain and comes in a variety of options. Note that the darker the floor, the more you will notice dust and debris. Hardwood will be one of the pricer options. In addition, hardwood is prone to fading over time, so ensure your choice includes a UV-resistant coating.
Luxury Vinyl Plank
A more low-maintenance option is Luxury Vinyl Plank. Recently, LVP flooring has come a long way in mimicking the look of wood. The advantage of LVP is the lower cost and even easier maintenance. As mentioned about hardwood, make sure the LVP you choose is resistant to sun fading. Be sure to pick a high-quality brand, as you do not want the finish to get ruined from moving furniture across it.
Natural Stone
Like hardwood, natural stone will be one of the pricer options. However, natural stone will last forever and need very little maintenance. You will need to clean the grout occasionally, but other than that you will have a very durable long lasting floor with natural stone.
Ceramic Tile
A ceramic tile is a fantastic option for sunrooms, as they do not react to direct sunlight. However, you have to consider the traffic your sunroom might get. If not installed properly, ceramic tiles can crack, but even if they are installed properly, dropping something heavy on them can have the same effect. As with natural stone, you will also need to clean and maintain the grout regularly.
Conclusion
In all, the best flooring for sunrooms comes down to price, durability, and ease of maintenance. Hardwood and natural stone will be the most pricy, but also the last the longest. Alternatively, you could take a look at luxury vinyl plank or ceramic tile. Both are a great lower-cost option, but be sure to pick high-quality materials to avoid sun bleaching or cracking over time.
Envy Home Services is a premier sunroom contractor serving Illinois residents. We are a veteran owned and operated company, in business since 2006. Take a look at some of our work in the Gallery!
More Sunroom Posts
Schedule a Free Consultation Today
To see the talented Envy Home Services team transform your underused or outdated space into the sunroom, kitchen or bathroom of your dreams, reach out today. We offer free estimates and no-pressure consultations, so give us a call at 888-864-0433 or fill out our online form to get your project started!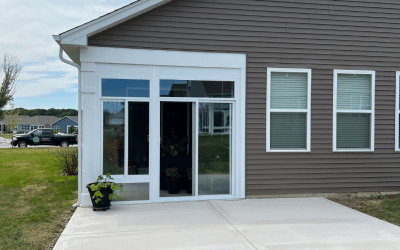 Oak Forest, IL 3 Season Enclosed Patio, completed in 2022. These homeowners had an ideal patio that could be enclosed with a three season sunroom. We used the two exiting walls of the home and build additional walls in the openings. In this case there was no need to...