Galley kitchens are usually found in tight spaces, such as in condos or smaller homes. Updating your galley kitchen does not have to be boring though! Check out some of these tips so you can make the most of your galley kitchen remodel.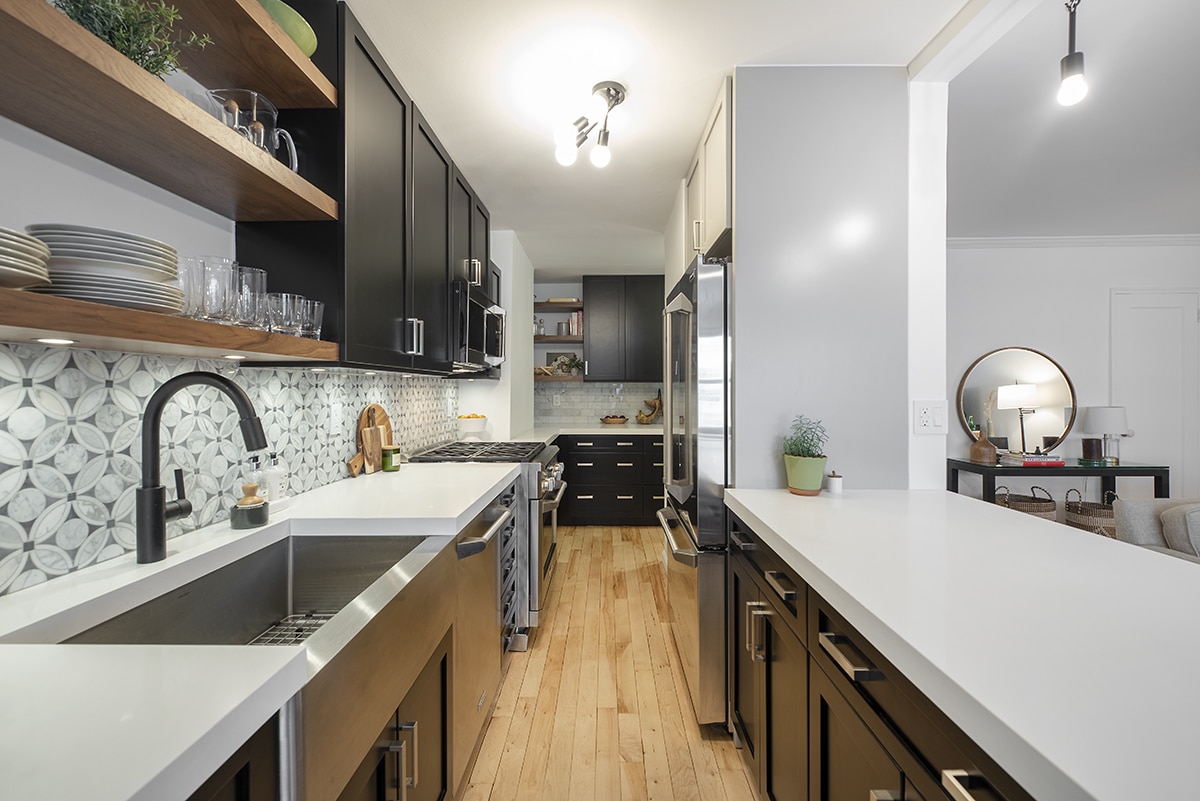 Modify the Layout
A classic way to better utilize a galley kitchen is to change the layout. However, in most cases, there is not an easy way to remove a wall or open the space. In some cases, you might be able to add a kitchen island, but 36 inches of clearance is needed at a minimum to bring the kitchen up to code.
Does your kitchen have soffits? There may be an opportunity to use more of the vertical space in your kitchen. In many older homes, the soffits do not have anything in them, so they are perfectly safe to remove. You can check for sure by boring a small hole into an inconspicuous area. If there is no electrical or ductwork inside, you can remove them and replace your upper cabinets with ones that go to the ceiling. This will make the kitchen feel larger because the eye will be drawn upwards instead of out. See this article for more about removing your kitchen soffits.
Another option for you is to remove a whole line of cabinets, and instead have all your kitchen along one wall. This would open the space for you to add a table, or something else. However, this may not be easily done if your oven is opposite your sink. In addition, you may not want to remove the cabinets and lose all that counter space. You could look into replacing that wall of cabinets with a half-debt pantry, or coffee bar instead to add some more floor space. See this guide about how high your cabinets should be hung.
Minimize visual clutter
Visual clutter can make a space look cramped, regardless of how well organized and presented it is. When working on a galley kitchen remodel, you don't want to make the space seem too busy. Instead, make strategic choices so the kitchen is still functional but doesn't seem overly crowded. Choose modern cabinets without handles that won't stick out.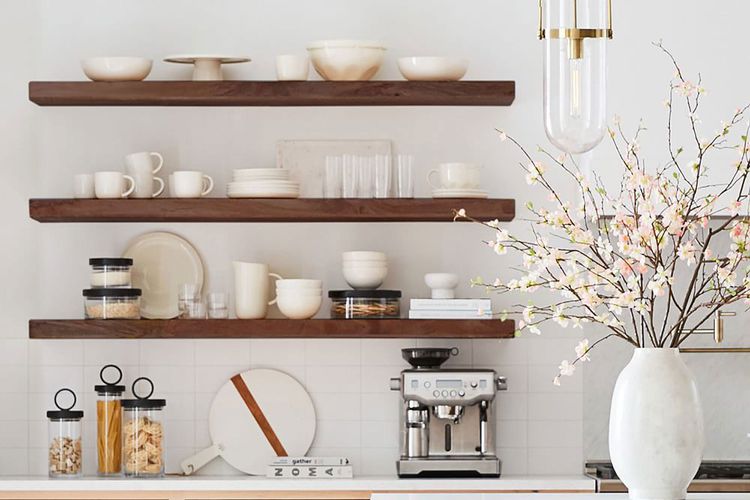 In addition, you could choose no upper cabinets at all. If you can get away with removing some storage space (perhaps if you have a pantry or somewhere else to store things) no upper cabinets might be the way to go. You can install a few shelves for display or decor, but removing the cabinets will open the room significantly. Choose drawer banks for your base cabinets so you can stack your storage space effectively.
Choose Appropriate Lighting & Color Schemes
When it comes to lighting, people often want to use pendant lights to accent the room. This isn't a bad choice, but be aware that pendant lights are more for decor rather than providing any actual light. For a small space like a galley kitchen, you will probably be better off with can lighting or under cabinet lighting.
Furthermore, choose an appropriate color scheme for your kitchen. You can't go wrong with a classic white, as is it will bounce off the light and make the space appear brighter. However, if you want something more unique, consider pastels for your cabinets or wall colors. Pastels are neutral enough, or leave the cabinets white and choose a beautiful backsplash instead.
Conclusion
A galley kitchen remodel can help you make the most of your kitchen. Consider modifying the space if you can – such as removing a wall to open it up. If this is not an option, think about extending or removing cabinets to gain more space. Minimize clutter, and think about the strategic use of space, such as adding drawer banks to base cabinets. Finally, choose appropriate lighting and color schemes so the space feels balanced.
Envy Home Services is a premier kitchen remodeler serving the Chicagoland north suburbs. We offer minor and major kitchen remodels countertop replacements and flooring services. See our work in our Gallery for more before and after kitchen remodeling pictures.
More Kitchen Remodeling Posts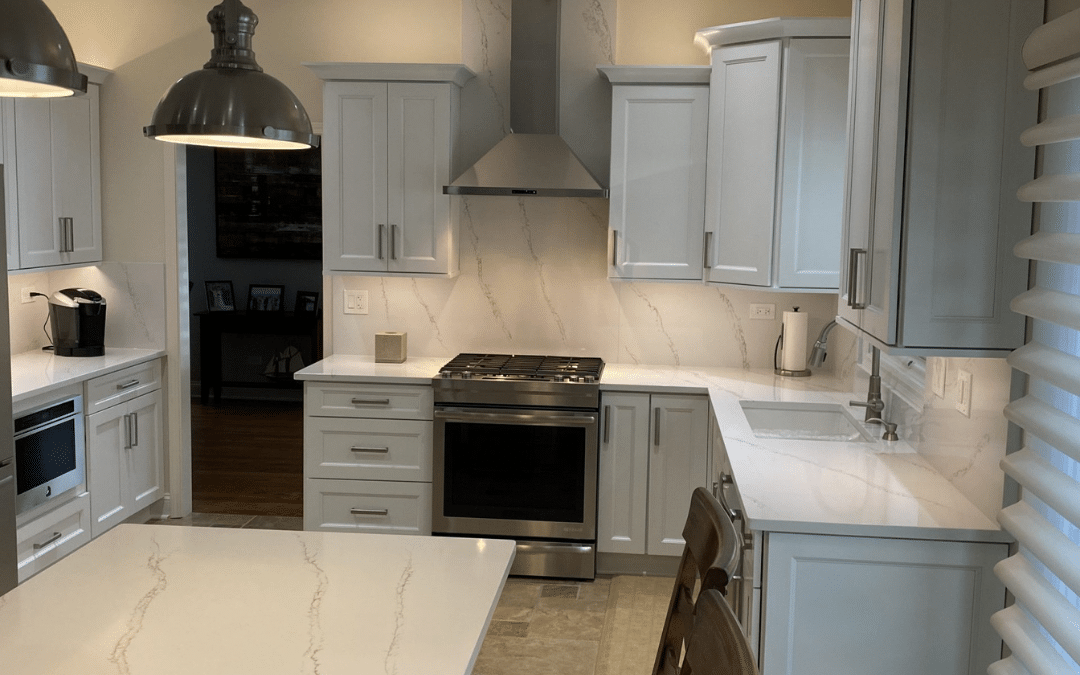 Bloomingdale, IL kitchen remodel we recently finished. Take a look at the before and after photos of this stunning kitchen remodel! See Our Home Advisor Reviews Before Pictures This kitchen remodeling client wanted to modernize her kitchen. The client didn't...
Schedule a Free Consultation Today
To see the talented Envy Home Services team transform your underused or outdated space into the sunroom, kitchen or bathroom of your dreams, reach out today. We offer free estimates and no-pressure consultations, so give us a call at 888-864-0433 or fill out our online form to get your project started!