Jacuzzi bathtubs get a bad reputation for being a pain to clean and maintain. However, for some, the jetted tub is the way to go to relief aches and pains. These tubs can be standard sized, or they can be large if you have the space. Either way, here are some things you need to know before starting a jacuzzi bath remodel.
Don't Bother Trying to Convert a Regular Tub
There are companies out there that can convert your cast iron tub into a jacuzzi bath remodel. Some of them are done well, however it may not be worth trying to do this. For one, they must cut into your exisiting tub in order to add the jets and eletrical. This can be not only pricy, but in the end may begin to leak as the seals wear off. That said, if the eletrical ever malfuncitons, you might find it difficult to repair later. That said, you will likely need to replace the tile surrouding the tub, as it will be damaged when your contractor goes to remove the tub.
Be Aware There of the Maintenence Invloved
Jacuzzi tubs have jets, which circulates the water around the tub. That means they can grow mold over time if not propertly maintained. There is jet cleaner solutions out there to keep the tub clean. Once a month or so, fill the tub and add the cleaner, then allow the tub to circulate for a while. It is important to do this consistently, because once mold begins to build up, it can be difficult to remove effectivly.
Know Your Long Term Plan
There are two main reasons many people are removing their jacuzzi tubs. The first is they can be a pain to maintain, but the second is because over time, people find it diffiuclt to get inside of. As we grow older, it is harder to mount the threshold of a tub. A smal standard tub is around 13″-15″ inches high. A jacuzzi tub can be as much as 20″ inches or more! Consider if you are really going to get the use out of you it that you expect. Many people retire, purchase a jacuzzi tub, and find they only have a few years of use out of it before they can no longer get in and out on their own.
Conclusion
A jacuzzi bath remodel is a great option for creating a spa-like bathroom. However, there are a few things you should keep in mind before you deicde to install one, or replace an old one. If you're going to put in a jacuzzi tub, replace the whole thing, don't try to convert an exisiting tub. Also consider what will happen to your surround – likely you will need to replace it with new tile or acrylic. Keep in mind the maintence involved to keep the tub not only clean, but up and running. In addition, think about the long term use of this tub. At some point, you may not want something that is so diffuclt to get into – make sure you'll get good use out of it!
Envy Home Services is a premier bathroom remodeling company for the Chicagoland area. We have completed several jacuzzi tub remodels, as well as tub to shower conversions. See more of our work in the Gallery!
More Bathroom Posts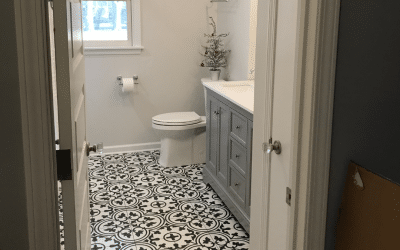 Wheaton, IL full bathroom remodel, completed 2019. These homeowners had a powder blue bathroom that had not been updated inside the late 80s. They wanted to give the whole bathroom a face lift, including the wet area, flooring, and vanity. In every one of our bathroom...
Schedule a Free Consultation Today
To see the talented Envy Home Services team transform your underused or outdated space into the sunroom, kitchen or bathroom of your dreams, reach out today. We offer free estimates and no-pressure consultations, so give us a call at 888-864-0433 or fill out our online form to get your project started!