Dependable Sunroom Contractors Serving Chicagoland Residents Since 2006
Envy Home Services offers a wide selection of affordable, quality sunrooms from Betterliving™ and Craft-Bilt. Our beautiful sunrooms are installed by factory-trained technicians who will treat your home as if it were their own. In addition to superior products and customer service, Envy also offers 50-year sunroom warranties and versatile financing options. As Illinois' leading sunroom contractors, we stand behind our work with no haggling or surprise charges.
Durable Sunroom Options from Betterliving™ & Craft-Bilt
Envy offers a variety of customized sunroom options, including:
Elevate the curb appeal, value and comfort of your home. All-season sunrooms protect your family from the elements due to a sturdy aluminum frame and reinforced vinyl interior. An advanced 12-layer glass system provides reliable temperature regulation so you can enjoy your sunroom year-round.
Envy's three-season sunrooms are built to last. Furthermore, each sunroom's durable aluminum frame and baked-on enamel means you'll never have to paint! These sunrooms have walls of energy-efficient glass, but can be tailor-made with screened windows for a different look and feel.
Screen rooms sport an aluminum framing and durable screens. They also bring in extra light, air and comfort throughout the warmer months. Options include screened decks, screened patios and screened porches. Additionally, these spaces offer customized sizes and features, such as screen doors and glass windows.
Gable roof sunrooms fit perfectly with a two-story or split-level home and are available with many customizing options. The cathedral-style roof adds elegance while a vaulted ceiling provides you with wide-open views and plenty of natural light. This unique design brings style and natural light to any space.
The studio sunroom won't break the bank. By far the most affordable choice on the market. Most home can support these structures. An Envy studio sunroom with single-slope roof design gives you an intimate space without impacting the visual lines of your home.
Your existing patio or porch can easily be enclosed with any of our product lines. This will create a more comfortable outdoor living area. In addition, we can also add air conditioning, heat and other convenient features to bring utility  and function to this space.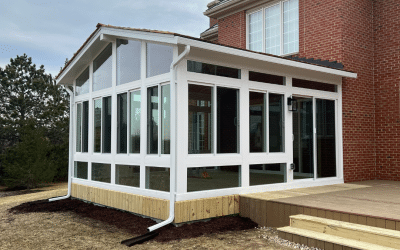 Long Grove, IL all season sunroom, completed in 2022. These homeowners wanted to built a sunroom addition next to their back porch. We removed the large windows inside the living room and created an opening where a patio door could go. Before Sunroom Addition...
All Season Rooms
An all season room is the perfect addition for your busy lifestyle, and your investment in a quality all season room gives you a functional space to enjoy while you entertain, relax and live. Envy Home Services wants to make your all season room special, so we work with leading sunroom manufacturers Betterliving and Craft-Bilt.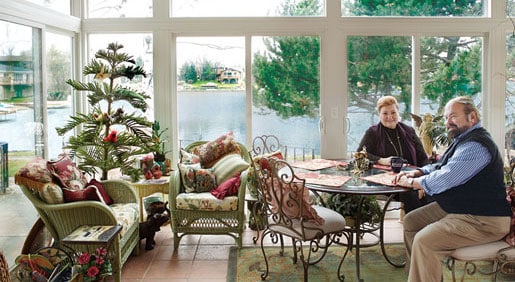 3 Season Rooms
Spring through fall, versatile 3 season rooms let you enjoy the diverse Midwest seasons without leaving your home. Envy Home Services offers a large selection of 3 season rooms from Betterliving and Craft-Bilt, two of the most respected sunroom manufacturers in the home improvement industry.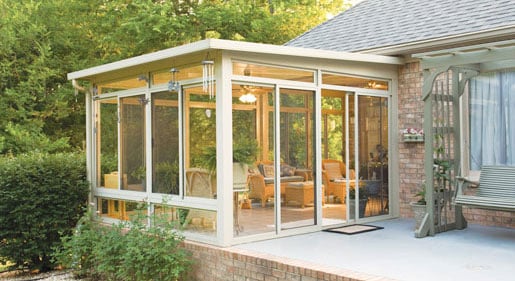 Screen Rooms
Envy Home Services can efficiently install screen rooms for you to enjoy throughout the spring, summer and fall. Our beautiful screen room options include screened decks, patios and porches. All Envy screen rooms can be customized with different colors, sizes and features like screen doors and glass windows.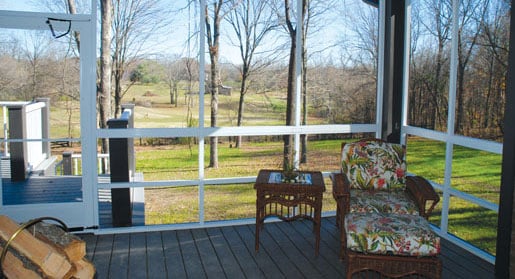 Gable Roof Rooms
Beauty, style and visibility best describe a gable roof sunroom. The cathedral-style roof adds elegance while a vaulted ceiling provides homeowners with wide-open views and plenty of natural light. Envy can install skylights, finish the ceiling and add wood accents to create a beautiful cottage or chateau look.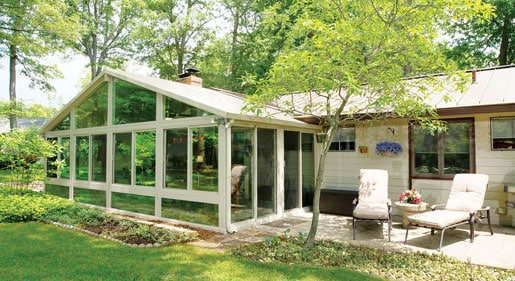 Studio Rooms
Envy Home Services has been installing versatile studio sunrooms for over a decade. Chicagoland homeowners appreciate how easily studio sunrooms complement a wide range of architectural styles. Whether your home is modern, traditional or somewhere in between, a studio sunroom can add space, beauty and comfort.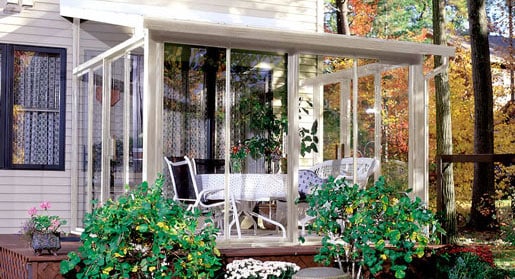 Under Existing Rooms
If your home has a porch, patio or deck that isn't being used as much as you'd like, Envy Home Services can easily enclose it. Our technicians can create a comfortable outdoor living area that protects you from the wind, rain, snow and bugs. We can also add screens, air conditioning, heat and other features.