Itasca, IL Room Addition, completed in 2020. The homeowners had an old screen room that they wanted to remove and replace with a full addition. One of the main things these homeowners didn't like about their screen room was that the roof didn't match with the outside of the house. A room addition differs from a sunroom because it is actually build onto the house, with siding to match. The room fully insulated with heat and electrical connected to the main house.
Before Pictures
The frame of this room addition is made of solid wood, and the foundation is poured concrete. You'll notice the concrete frame is thick enough for the walls to sit on top and be fully insulated. Each of our room additions are constructed customer by our skilled team of carpenters. They meticulously frame out the project and build on sight.
In Progress Pictures
The final room addition is complete with siding and trim to match the rest of the house. You'd never know this addition wasn't always part of the house! Custom stairs and security doors completes this look.
After Pictures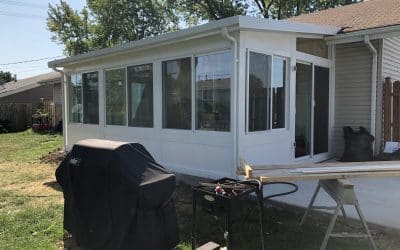 Hoffman Estates, IL studio sunroom completed back in 2019. These homeowners had a small deck they wanted to transform into a sunroom. They were looking to add more space for their growing family to use throughout the year. We removed the old deck and poured new...
Schedule a Free Consultation Today
To see the talented Envy Home Services team transform your underused or outdated space into the sunroom, kitchen or bathroom of your dreams, reach out today. We offer free estimates and no-pressure consultations, so give us a call at 888-864-0433 or fill out our online form to get your project started!