Envy Home Services is a local bathroom remodeler serving the Chicagoland North Suburbs. We are a BBB Accredited, veteran-owned and operated business. Since 2006, our team of skilled installers has completed over 1,500 local remodeling projects. Our office is located in Arlington Heights, IL.
See Our Past Work
How Much Does a Bathroom Remodel Cost?
A bathroom remodel can vary in scale and complexity. The cost of your bathroom renovation will come down to what you wish to include in the project and the cost of the materials you use. However, smaller projects, such as a tub-to-shower conversion, will cost less, while larger projects, such as a primary bathroom remodel, will be more. Use this tool from Houzz.com to determine average bathroom costs in your area. The cost you pay can vary, however, depending on multiple factors. That said, we recommend you book a free in-home consultation with a skilled Envy bathroom remodeler to help determine your remodel cost.
How Can I Make My Bathroom Remodel More Affordable?
You can make your bathroom affordable for you and your family with a few compromises. Many people want to renovate their entire bathroom at once, but it can be easier to do it in stages. For examples, start with a wet-area-only remodel, as this tends to be the space that needs the most help. After all, it is the most used space in any house! The wet area (the tub/shower) is the most labor-intensive part of any bathroom renovation and accounts for about half the total cost of a remodel. Remodeling the shower can give your bathroom a massive facelift at a more affordable price. Then you can update the vanity and flooring later on.
Do We Offer Home Improvement Loans or Financing?
Another option to make your bath remodel more affordable is to look into financing options. We partner with Synchrony Finance to offer our customers great opportunities for their remodeling. Earn up to 18 months of interest-free financing for qualified purchases. That way, with interest-free financing, you can spread the payments over a more extended period. Many of our customers who need to do an unexpected shower remodel due to a leak choose this option so they can get the job done right.
What Kinds of Bathroom Remodeling Services Do We Offer?
We offer full-service bathroom remodeling options. Our most popular options are our small bath remodels and tub-to-shower conversions. The reason being, projects like these can be done with minimal downtime, which is especially advantageous if you have only one bathroom or are working with a smaller budget. In addition, we offer master/primary bathroom remodels, vanity replacements, flooring, and more.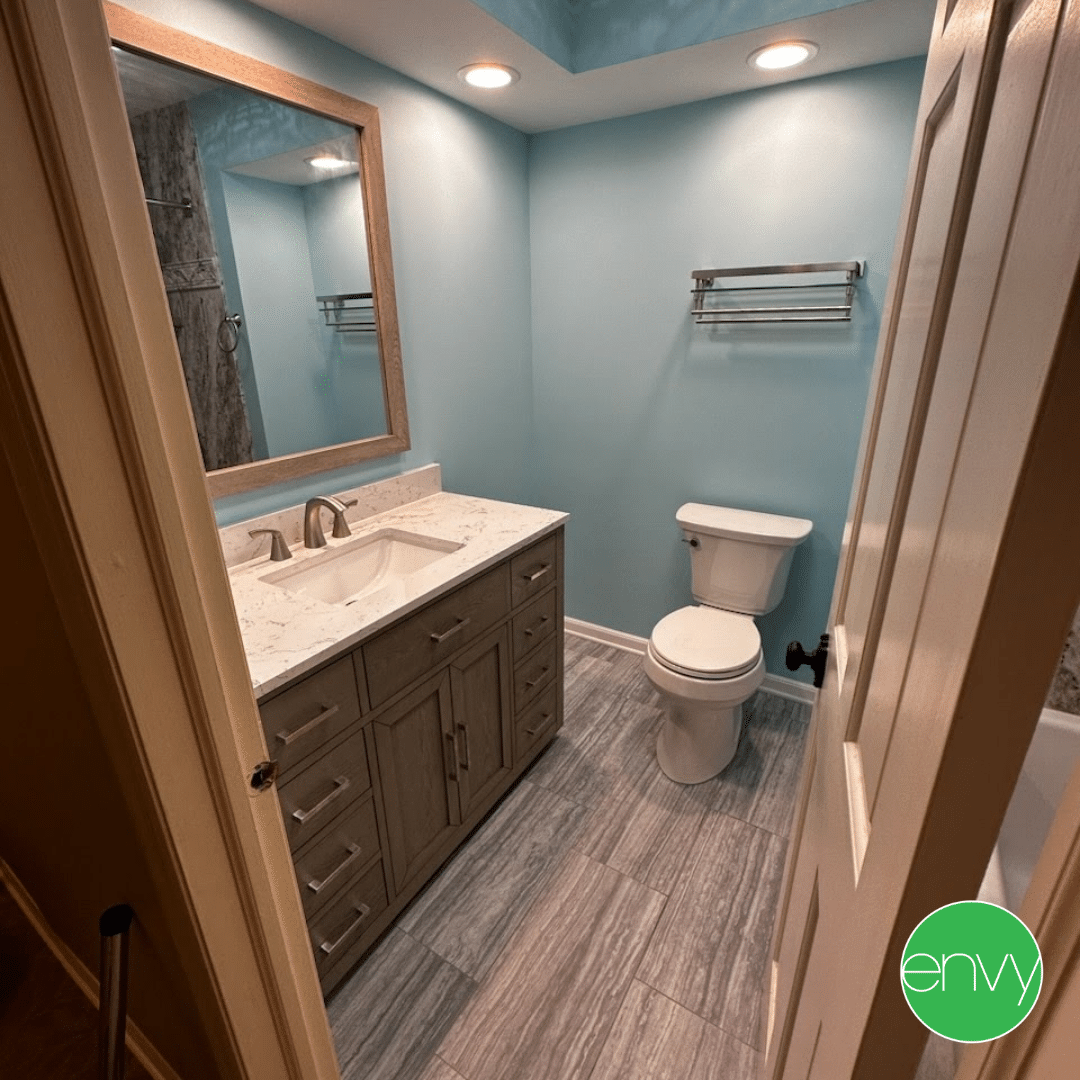 Small Bathroom Remodels
Most people have at least one small bathroom in their homes. We consider a small bathroom 6ft X 9ft or less with a standard wet area. We regard bathrooms without a wet-area as half baths or powder rooms. However, some people have en suite or primary bathrooms that are also considered small bathroom remodels. A small bath remodels most often includes:
Updating the wet area plumbing.

New shower walls

Replacing the tub or shower base.

Updating the vanity, flooring, and electrical.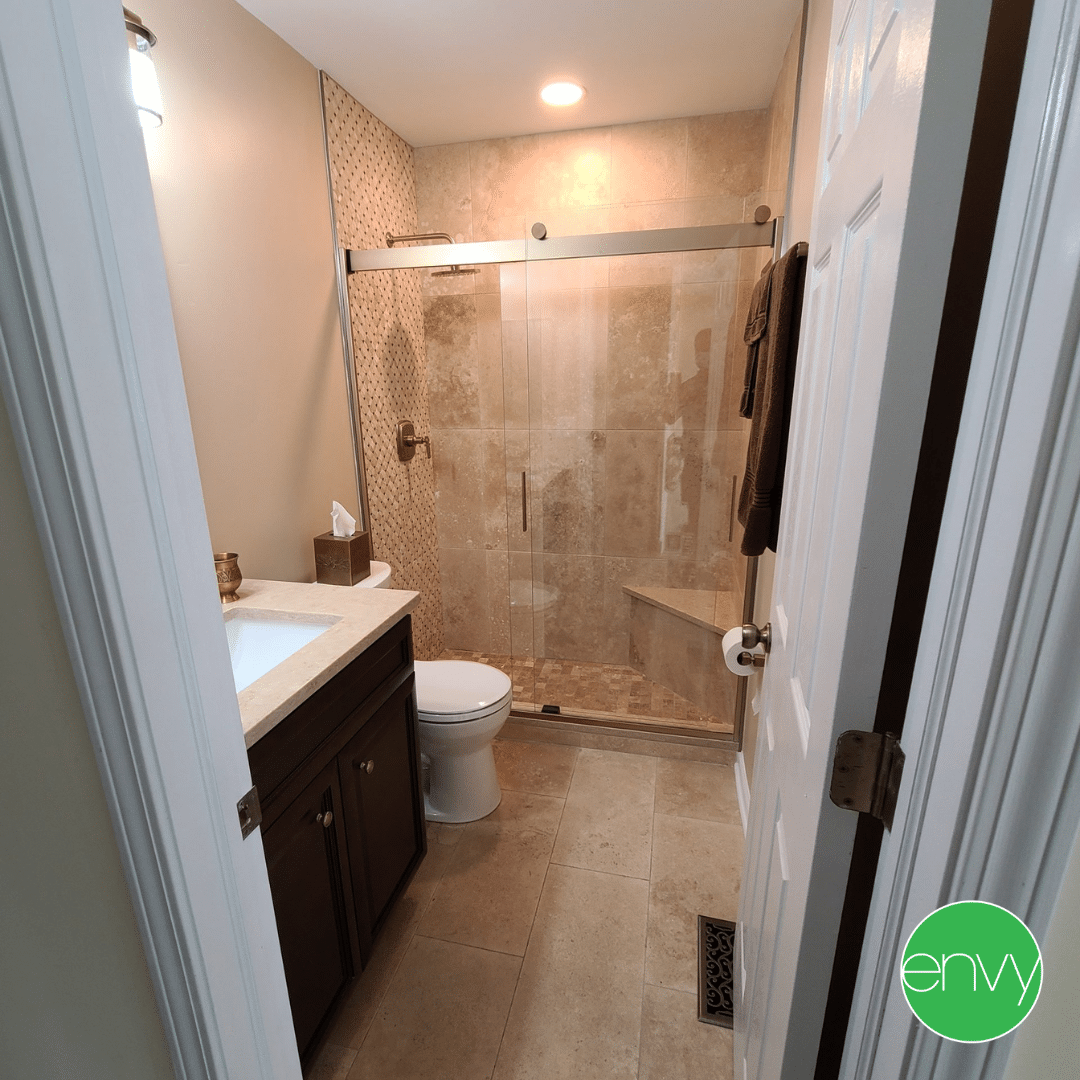 Tub-to-Shower Conversions
Tub-to-Shower conversions are by far our most requested remodel these days. Many people want the option to age in place, which a walk-in shower can help immensely. You'll work an expert bathroom remodeler, who can build a beautiful walk-in shower with custom glass. Tub-to-shower conversions can be performed over a shorter time than an entire bathroom remodel – think days rather than weeks. Save time and money with an acrylic surround.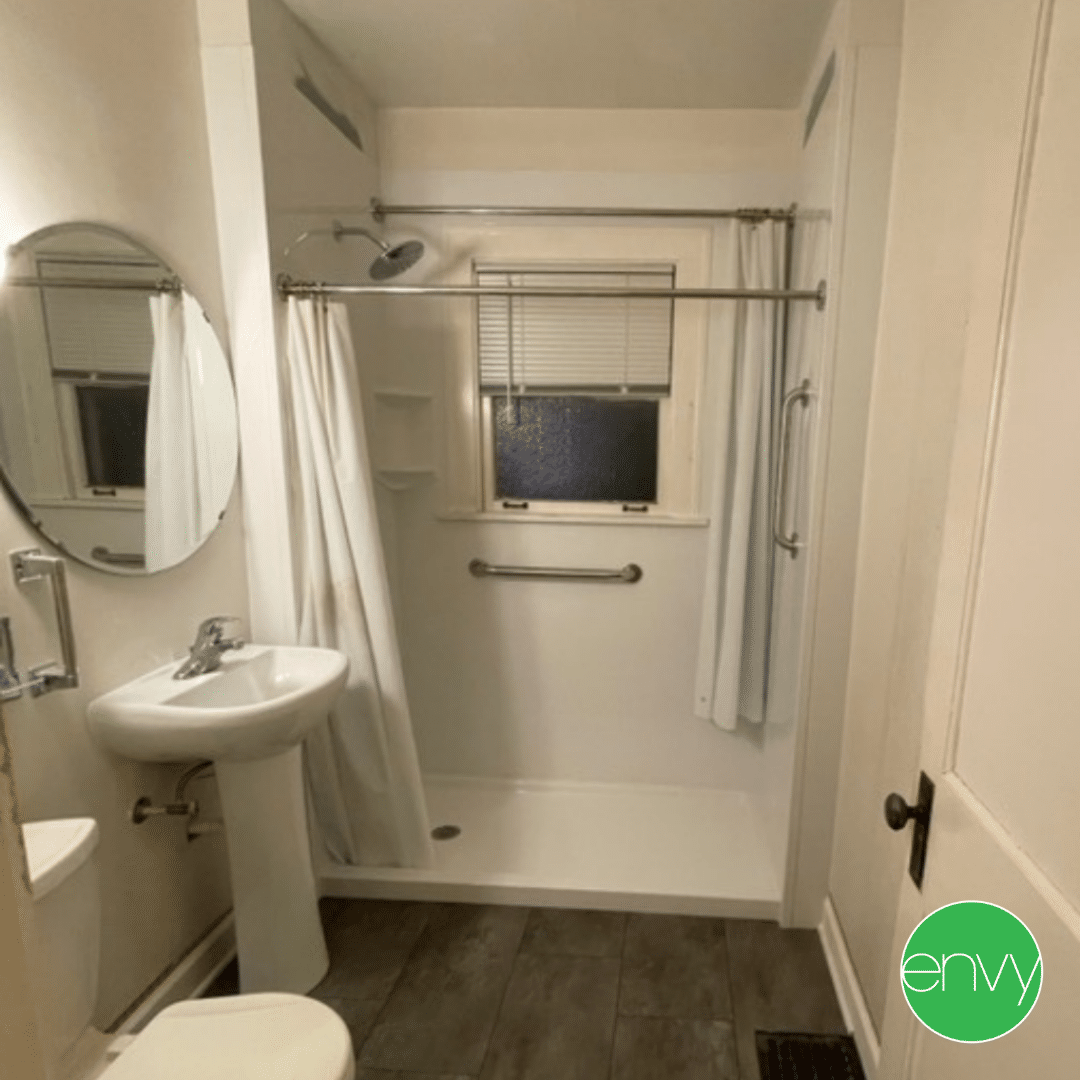 Acrylic Surrounds
If you've never considered an acrylic surround, it can be a practical solution for a shower update or a tub-to-shower conversion. Four-piece acrylic systems are the best bathtub insert solution because they are maintenance-free. With a four-piece system, you'll choose a tub/shower base and wall surrounds of your preference.
A skilled bathroom remodeler can completed an acrylic surround in around two days, as we first must update the plumbing to ensure there are no leaks. In addition, acrylic systems are an excellent walk-in shower solution for seniors who need a tub-to-shower conversion as quickly as possible. We source our acrylic surrounds from BCI Acrylic Inc. out in Libertyville, IL. BCI baths and showers are designed with maximum durability to last you decades. Their acrylic systems are guaranteed:
Low maintenance

Easy to clean

Mold and mildew resistant

Scratch and stain resistant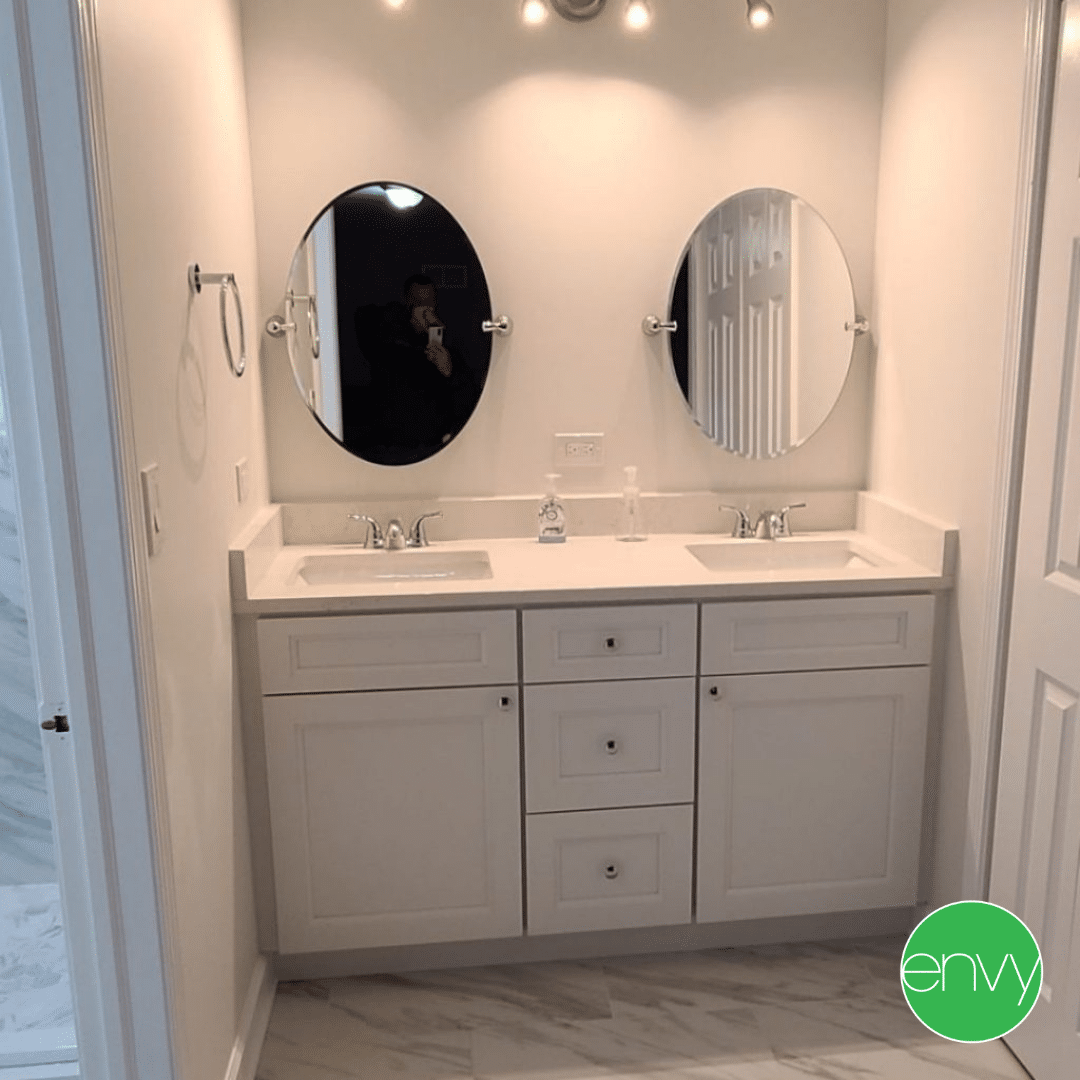 Vanity Replacements
To make a bathroom makeover more affordable, some people will choose to stage the project, starting with the wet-area and then the vanity later. You can choose to update only your vanity if you have already updated your shower. Our bathroom remodelers haul away the old vanity, updating all the plumbing, and installing the sink top, faucet, and sink bowl. In addition, you can purchase your vanity yourself or choose from one of our select vendors to find the perfect vanity for you.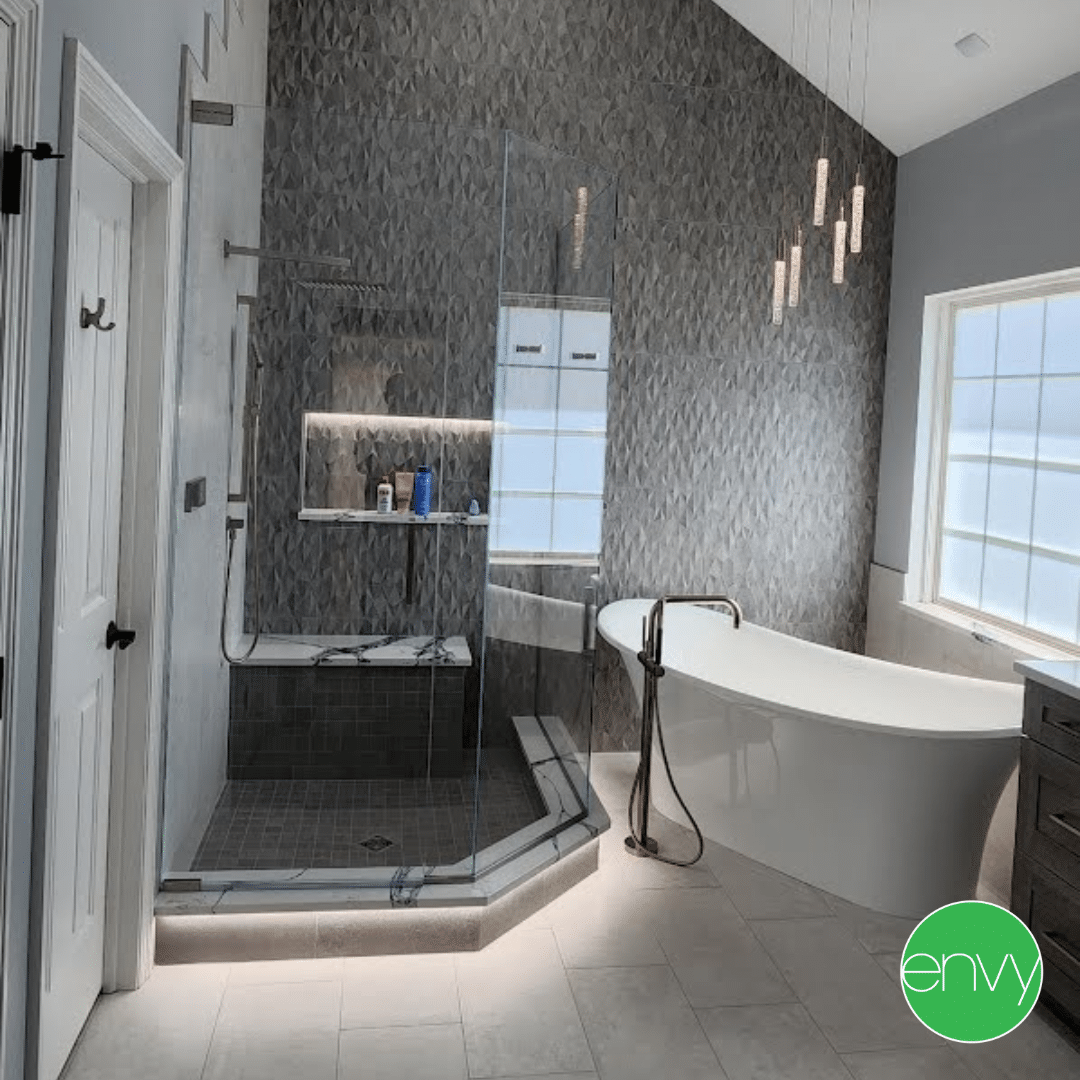 Primary/Master/En Suite Bathroom Remodels
Primary, master, or en suite bathroom remodels are typically on the larger side. Often there is only a standing shower or tub system, but these kinds of bathrooms often have a standing shower and a tub. We can remove or install jacuzzi tubs, a freestanding tub, or remove the tub altogether. In many cases, we can combine the tub and standing shower into one large shower with dual sprayers. Our expert bathroom estimators can determine what is possible depending on your layout.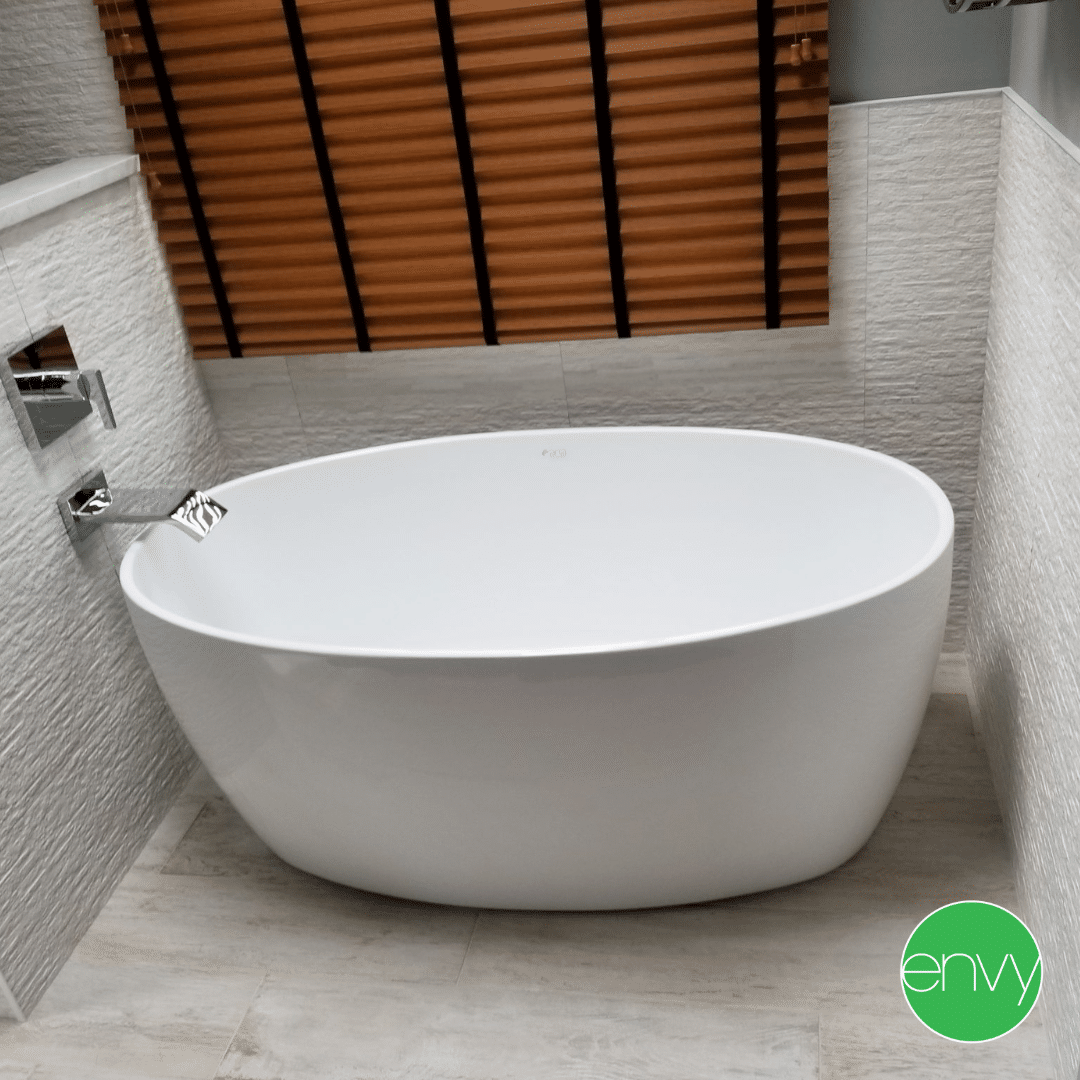 Freestanding Tub Installation
If you are lucky enough to have space for a freestanding tub, we can help with that! Freestanding tubs offer a fantastic focal point to draw the eye. We have installed acrylic, cast iron, and cast stone freestanding tubs. In addition, an expert bathroom remodeler ensures your floor is reinforced to handle the weight of a freestanding tub and mud it directly into the floor. Finally, we will adjust the plumbing to accommodate just about any style of freestanding soaker tub you choose.
What Other Bathroom Remodeling Services do you Offer?
We are a full-service bathroom remodeler that can accommodate most remodeling situations. Some updates we regularly offer are:
Tile or 

luxury vinyl plank

 floor installation

Radiant flooring installation

Custom vanity top installation

Custom 

lighting upgrades

New venting to the outside to control humidity

Custom shower door

Stone vanity top

Subfloor repair

Window replacements

Painting
Can I Bring my Own Remodeling Materials?
Yes, you can! We understand everyone has their own style and taste. Therefore, you are welcome to bring 100% of the materials to your bathroom makeover, and we will install them for you. However, most people do a mix where we source some of the materials while you shop for the rest. Additionally, we partner with Studio 41 in Schaumburg, which can help you find exactly what you're looking for. We generally recommend the following for who gets what during your installation:
You Supply:
Tile (flooring & surround)

Mirror(s)

Light fixtures

Trim & valve

Any accessories (towel bars, toilet paper holders, etc.)

Overhead fan

Paint
We Supply:
Drywall

All plumbing & electrical materials

Bathtub or shower base

Vanity

Any custom stone pieces, such as quartz vanity tops or shower benches

Custom shower doors
What is the Process for Getting a Quote?
Call or submit an online inquiry, and we will reach out for a time to offer you a free quote. We will help you schedule a time for a, Envy  bathroom remodeler to come to your home and take a look at the bathroom. The estimator will ask you questions and take measurements before offering you a free quote. The quote is good for 90 days, which gives you plenty of time to think it over.
Can I Schedule a Virtual Quote?
You absolutely can! An Envy bathroom remodeler will give you a call to ask you a few questions about your project. Then you will be asked to sketch your bathroom with relevant measurements. Email this drawing to your representative, and they can create a quote for you. They will then set up a time to review the quote with you and email you a copy. The quote is good for 90 days.
What is the Installation Process?
At the beginning of your remodel, we start with the demolition. First, our bathroom remodelers will haul away all trash and debris and clean the room. Then, the field manager will inspect the space with the installer to determine any potential problems. At that point, they will proceed with plumbing updates and electrical. Once they are complete, we install the tub or shower base and surrounds and the vanity and sink. The floor goes in last, along with any patching and painting required.
What is the Turn Around Time?
While each project can vary, we aim to complete your bathroom remodel within 6-8 weeks from the contract date. Once you sign the contract, your project goes into the production queue. Sometimes we can get to it sooner, depending on the other projects already in progress. The actual time in your home will be between 4-14 days. Our bathroom remodelers work on one remodel at a time, so you can be assured they will work on your remodel until it is done!
Latest Bathroom Remodeling Posts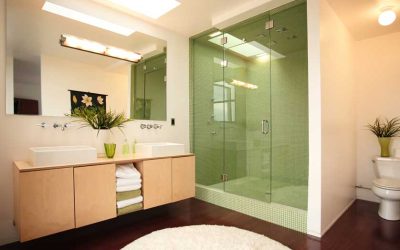 The master bathroom is more than just a place to wash up. It's where you rejuvenate after a long day, prep for the day ahead or steal a moment of solitude. A perfect master bathroom is one that not only functions well but also captures your style and meets your...