Schaumburg, IL Home Remodeler
Envy Home Services is a high-quality Schaumburg, IL Home Remodeler. Our skilled team can design and install beautiful sunrooms, kitchens and bathrooms with the most affordable and functional products on the market.
Quality Betterliving™ & Craft-Bilt Sunrooms
Adding space to your home is easy with Envy's quality sunrooms. Whether you want an all-season room, screen room, gable roof room or some other sunroom style, we can efficiently bring the beauty of the outside to the comfort of your home. We partner with Betterliving and Craft-Bilt to bring homeowners a wide range of sunroom options in versatile colors, materials and designs.
Once you've selected the perfect sunroom for your needs, Envy's talented house remodeling experts can seamlessly integrate the new sunroom with the architectural style of your home. From start to finish, our team will work hard to give your Schaumburg, IL, home added space, value and curb appeal.
Affordable, Attractive Kitchen & Bathroom Remodels
Envy Home Services also offers timely, cost-efficient kitchen and bathroom remodeling services. Whether you want to rip everything down to the studs or simply replace a few countertops, Envy's technicians have the expertise to complete your project. We have low-maintenance, beautiful kitchen and bathroom products to bring added style and utility to your home. Our technicians are highly qualified to work with your space to complete a remodeling project that you can enjoy for years to come.
See Our Work in Schaumburg, IL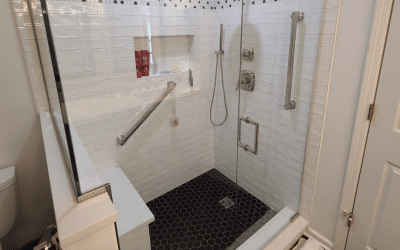 Schaumburg, IL master bathroom remodel, completed 2021. This client wanted to updated her outdated master bathroom. She had an angled vanity with two sinks she wanted to replace with something more modern. In addition, she wanted to take out the Neo-angle shower and...