When remodeling a bathroom, one of the most important aspects to consider is the flooring. You need to choose a flooring material that will hold up to moisture. You also need to consider its appearance, ease of maintenance and cost.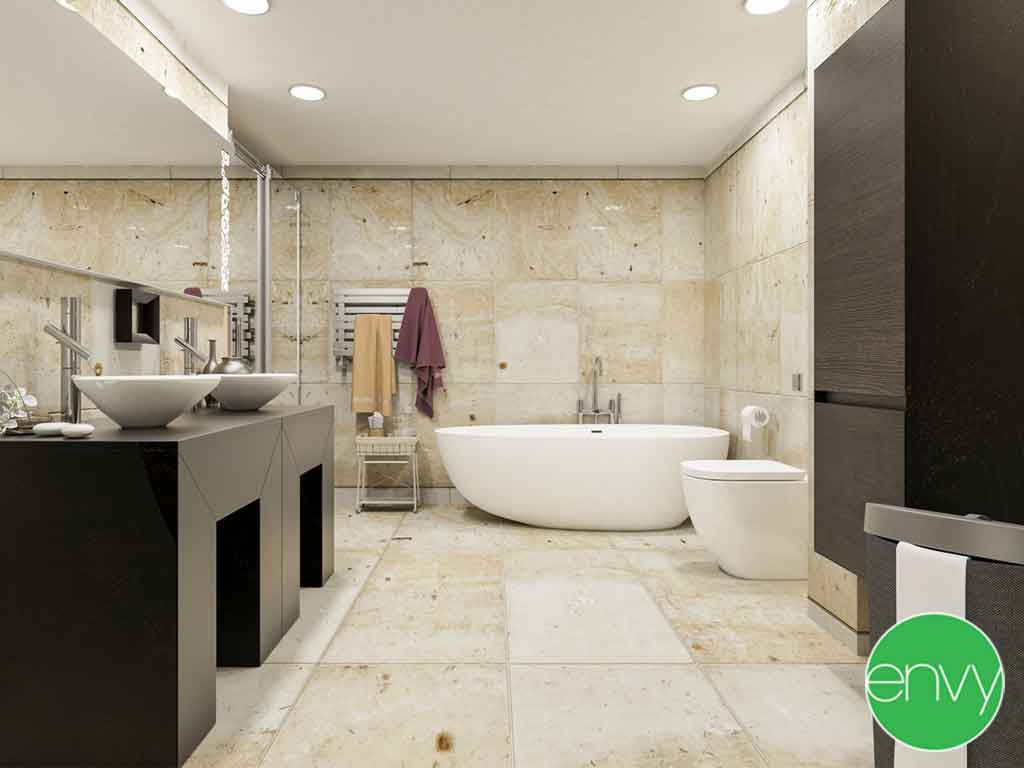 As experienced bathroom and kitchen renovation contractors, we at Envy Home Services have worked with a wide variety of flooring materials. In this post, we'll share with you the best options currently available on the market.
Ceramic or Porcelain Tiles
Porcelain tiles are easily the best flooring materials for bathrooms because of their impressive water absorption rate at only 0.5 percent. Ceramic tiles look similar to porcelain tiles, only with a slightly higher absorption rate.
Both porcelain and ceramic tiles are easy to clean. They also work well with radiant heating systems and they come in a wide variety of style choices.
They have some downsides, though. They can be slippery and cold and hard underfoot.
Vinyl Flooring
Vinyl flooring materials are cost-efficient. You can find them in different profiles: tile, sheet and plank. They are also available in a wide range of styles and colors.
As one of the leading bathroom and kitchen remodeling companies in the area, we have used vinyl flooring in some of the projects we've handled. They are water-resistant and generally easy to install. They require professional installation, as any bump or unevenness on the subfloor or underlayment will be easily noticeable.
Natural Stone
Although expensive, natural stone is a great choice for bathrooms. Natural stones such as granite, marble and limestone can resist moisture very well. They are also very durable. Not to mention, they look great, too.
Probably the only downside of this option is the cost, although you can consider it as a long-term investment.
Engineered Wood
If you want the look of wood but are worried about moisture, the engineered wood is the solution. Engineered wood flooring does better than solid hardwood in terms of moisture resistance. However, they are pricier than tiles and vinyl.
Want to make sure you're getting the best flooring material for your bathroom? Consult reliable bathroom and kitchen contractors like Envy Home Services! Call us today at (888) 847-7954 or fill out our contact form to schedule a no-obligation consultation.