Just because the chairs are pretty doesn't mean they're perfect for your kitchen island or bar. There are lots of good-looking bar stools out there it might be more challenging than easy to find the ones you truly need. To help you choose the right chairs, here's some advice from professional kitchen renovation contractors.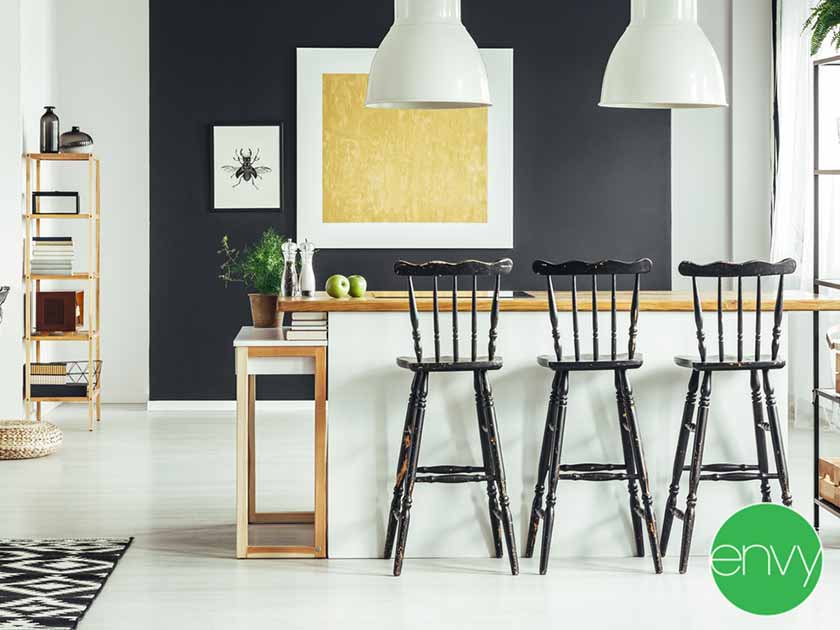 Always Go With the Right Height
There are different types of chairs that might serve the purpose. Here's a guide:
•  Chair stools (18" from floor to seat): Best with tables or counters with a height of 28"-30".
•  Counter stools (24"-26"): Best with tables or counters with a height of 36"-39".
•  Bar stools (28"-30"): Best with tables or counters with a height of 40"-42".
To be comfortable on a stool, allow 9"-13" between the seat and the counter.
Count the Chairs That Would Fit
To make seating comfortable with enough elbow room, and to avoid a crowded-looking room, kitchen contractors recommend buying only the right number of stools. Make some measurements.
•  16"-18" widest part of the stool: 21"-22" of space between each stool.
•  19"-22" widest part of the stool: 24"-25" of space between each stool.
For swiveling stools or stools with armrests, allow a bit more space between each one.
Style and Material
For narrow spaces and heavy foot traffic areas, it's a good idea to go with stools that are backless. You don't have to worry about elbows hitting the backrests of your chairs. Plus, backless stools can be hidden under the counter.
If you often spend time sitting in the area, however, or if you entertain people there, get stools with comfy backrests.
For low-maintenance seating, easy-to-clean materials are a must. Leather, wood, and metal all offer this advantage.
Lastly, always take into account the theme of your kitchen. This will help you choose chairs that blend in well instead of sticking out like sore thumbs.
Envy Home Services is one of the most trusted kitchen remodeling companies in the area. We can give you more advice regarding your kitchen furniture and other things. Call us today at (888) 847-7954 toll-free, or fill out this form for an estimate.