There are many advantages to gain from radiant floors. More homeowners are installing this comfortable and convenient heating option in their homes. If you're wondering whether getting one for your own home is worth the investment, let our home and kitchen renovation contractors at Envy Home Services explain what there is to know about radiant floor heating.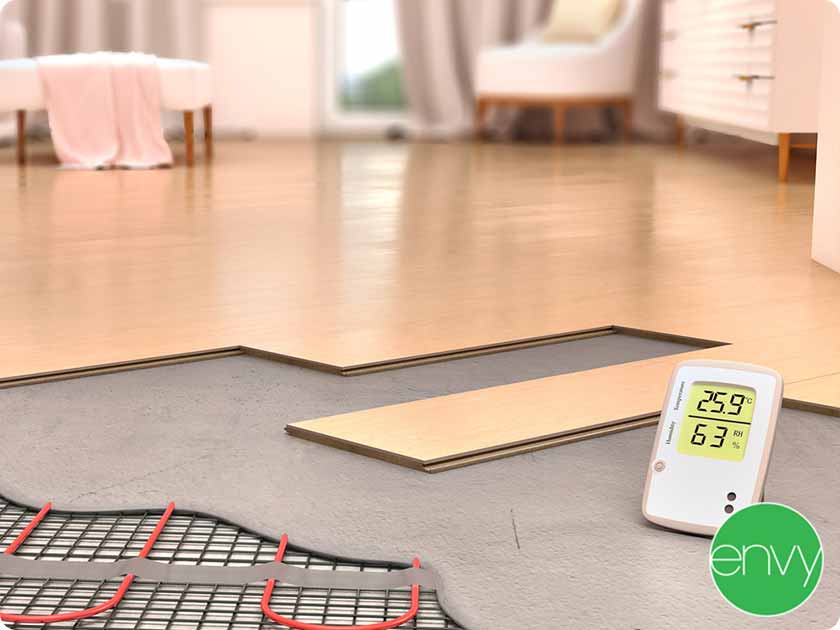 How It Works
Traditional heating systems heat the air which warms up the room. Radiant heating systems work a bit differently by directly warming the people and objects in a room. The temperature on heated floors goes up to 104° . Most users will typically set it to a more comfortable range of between 80° F and 85° F.
Basically, it's like standing in direct sunlight vs. standing in the shade. The warmth you get from radiant heating systems often feels like the warmth of the sun. This allows people to feel warm even when the ambient air temperature in the room is actually cooler.
How It Can Benefit You
Better Efficiency – Compared to traditional setups, radiant floor heating has a higher level of energy efficiency. As a reputable name among home and kitchen remodeling companies, we highly recommend this if you're looking to decrease your monthly energy bill!
It's Hypoallergenic – Traditional forced-air heating systems tend to accumulate dust, which can be problematic for those with allergies and asthma. But with a radiant heating system, you won't have to worry about harmful allergens. Additionally, radiant floors are easy to clean.
It's Quiet – Unlike the common clanks, clicks, pops, and creaks that characterize a typical forced-air, electric, or water-powered heating system, radiant floor heating systems are virtually silent.
As one of the best kitchen contractors in the area, Envy Home Services gets the job done with speed and efficiency! Call us today at (888) 847-7954, or you can contact us online via our convenient request form.