A corner bathtub can help you get the most out of a bathroom with a relatively small floor area. In today's post, the bathroom and sunroom addition contractors at Envy Home Services discuss why you should consider getting a corner tub.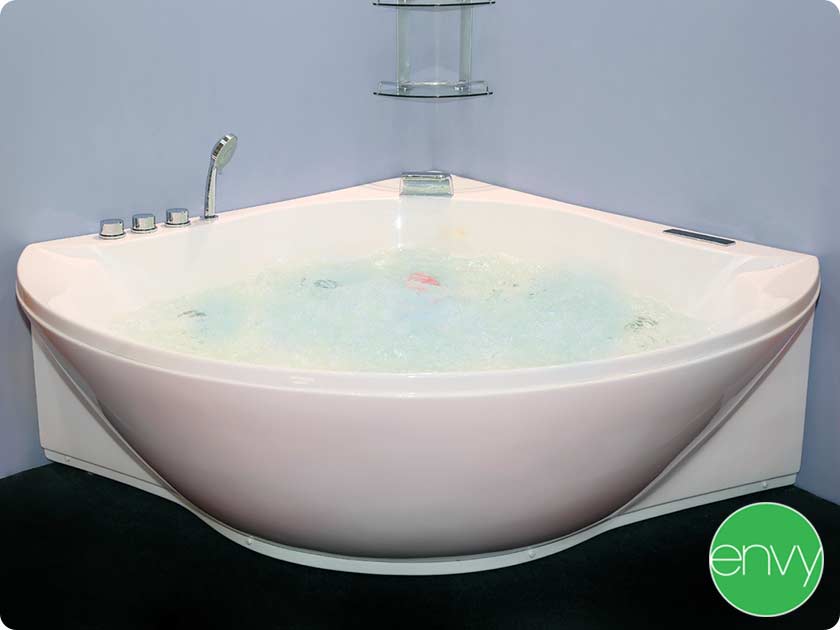 Why Consider a Corner Bathtub?
A corner bathtub is a bathtub with two sides that are designed to fit into a corner. While most bathtubs fit this description, corner tubs have a distinct shape that allows a tight cornet fit. Small bathrooms typically end up as three-quarter baths — bathrooms that only have a shower, a sink, and a toilet — but a corner bathtub allows a full bathroom without increasing the bathroom's floor area. It can also take the place of a full-sized tub and let you reclaim some floor space.
Important Considerations
If you intend to add a corner bathtub to your bathroom, your choice of remodeler is important. You should prioritize hiring bathroom renovation companies that have experience installing corner bathtubs. Installation isn't a straight swap unless the old plumbing happens to align with the corner bathtub. Otherwise, changes will need to be made to the plumbing.
A bathroom remodel that creates more floor space is an opportunity to redesign everything from the ground up. You can, for example, use the freed-up space to accommodate a bigger vanity or a shower upgrade.
Isn't a Corner Bathtub Too Small?
A corner bathtub's footprint may be significantly smaller than a standard bathtub's, but it's deeper than standard bathtubs and the interior profile is designed for sitting. In fact, most corner bathtubs can fit two bathers — a popular example of which is a hot tub. Given these design differences compared to standard bathtubs, you should also consider that a corner bathtub has more cleaning and maintenance requirements than a standard one. Also, if you are remodeling your bathroom for accessibility, consider a walk-in tub in its stead.
Envy Home Services is one of the leading bathroom renovation and screened patio companies serving communities in Northern Illinois. Give us a call at (888) 847-7954 or fill out our contact form to schedule an appointment.