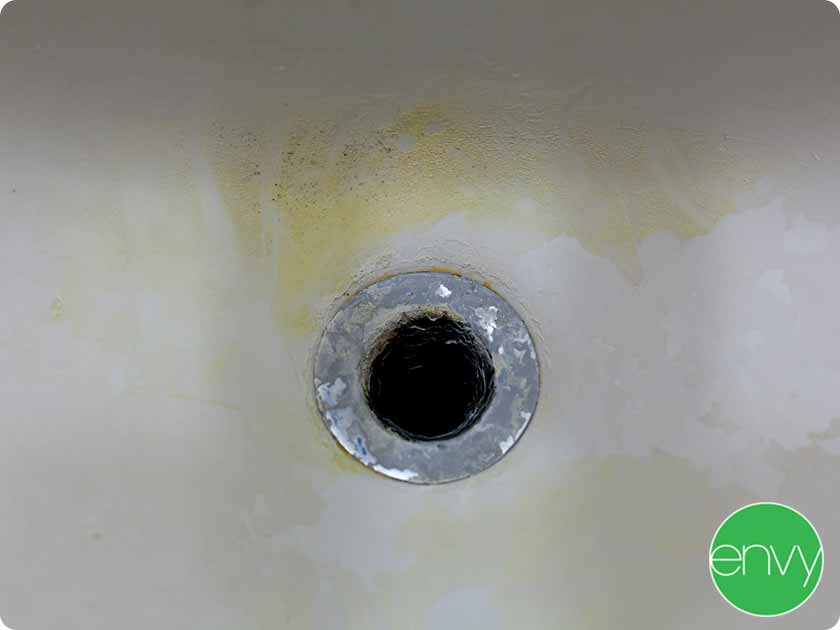 Most of the time, the cause of bathtub discoloration is your water. In addition, the problem could be due to shampoos or conditions, but that is less likely. We have made a list of ways to deal with bathtub discoloration, as well as some tips to deal with the problem permanently.
Types of Bathtub Stains
Orange/Red Stains
The presence of orange or red stains is due to high amounts of iron in your water source. These kinds of stains are usually found around the drain of the tub, and most often if you have city water. Treat with:
Lemon Juice

White Vinegar

CLR (Calcium, Lime & Rust Remover)
White Stains
White stains can be either soap scum or limescale buildup. Limescale is not dangerous to you, however, can damage your water heater and plumbing. Treat with:
Lemon Juice

White Vinegar

CLR (Calcium, Lime & Rust Remover)
Yellow Stains
Yellow stains are most often an issue in homes with well water but can happen in homes with city water as well. The yellow tint is caused by an organic material called tannins and usually causes water to have a tart aftertaste and an earthy smell. Treat with:
White Vinegar & Baking soda
Black or Brown Stains
Black or dark brown stains around the drain are due to high levels of magnesium in your water. Magnesium is not harmful and is essential to human health. Black or brown stairs happen most often in homes with well water. Treat with:
Hydrogen Peroxide & Cream of Tartar

White Vinegar & Baking Soda

Floride Toothpaste
Blue-Green Stains
Blueish green stains in your bathtub are likely caused by acidic water. This is a problem more common in the Northeastern region of the US and can damage your appliances over time. Treat with:
White Vinegar & Baking Soda
What if I Can't Remove the Stain?
Unfortunately, some stains may not come out no matter what you try. In that case, there are more permanent methods to deal with bathtub discoloration.
Get Your Tub Refinished
You can look into getting your tub, and your surround refinished or resurfaced. Refinishing a tub involves sanding the tub with an acidic solution to make the surface porous, and then spraying with an epoxy or other latex-like coating. Refinishing is a great option for most tubs, however, the process involves highly noxious fumes. If your bathroom does not have a window or good ventilation system, it can be dangerous as well as a fire hazard. Be turn to hiring a professional for tub refinishing.
Remodel the Wet Area
If refinishing the tub doesn't sound appealing to you, you can look into remodeling the wet area only. Many people will remodel the wet area, and leave the rest of the bathroom for another time to cut down on costs. The best replacement for a tub is one made of acrylic, which won't stain like fiberglass or porcelain tubs. Acrylic tubs come in a variety of options and are available for both freestanding and built-in tubs.
Conclusion
Bathtub discoloration is generally due to mineral deposits in your water system. Depending on if your home has well or city water, you might have different issues. Most stains can be treated with lemon juice, vinegar, baking soda, or some other home remedy. For more stubborn stains, you might look into refinishing or replacing your tub.
More Bathroom Remodeling Posts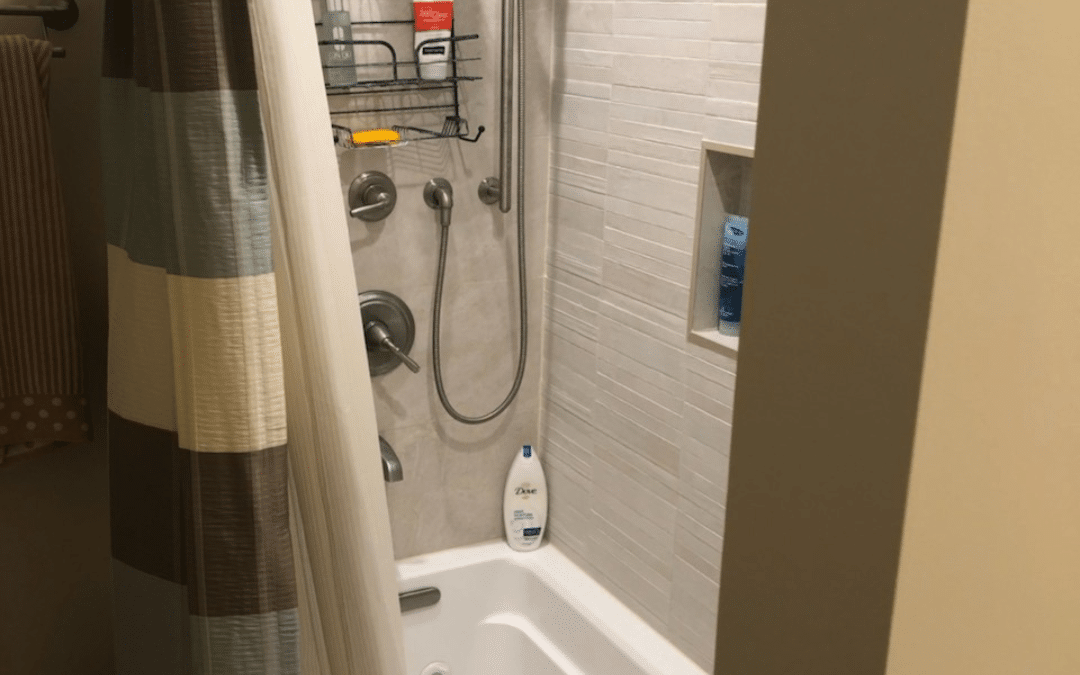 Elmhurst, IL full bathroom remodel, completed back in 2019. This bathroom needed some layout changes. You'll notice we remove a wall in order to open up the space between the toilet and shower. We removed the standing shower, and replaced it with a tub/shower...
Schedule a Free Consultation Today
To see the talented Envy Home Services team transform your underused or outdated space into the sunroom, kitchen or bathroom of your dreams, reach out today. We offer free estimates and no-pressure consultations, so give us a call at 888-864-0433 or fill out our online form to get your project started!