If you've been dreaming about walking barefoot on cozy heated floors then you are definitely not alone. Installing heated floors is an energy-efficient way to help keep you and your family warm throughout the cold winter months and they're not as expensive as you might think. But before ripping out your old floors, one of Illinois' top heated flooring and screened patio companies, Envy Home Services, shares three things that you need to know before starting on this remodeling project.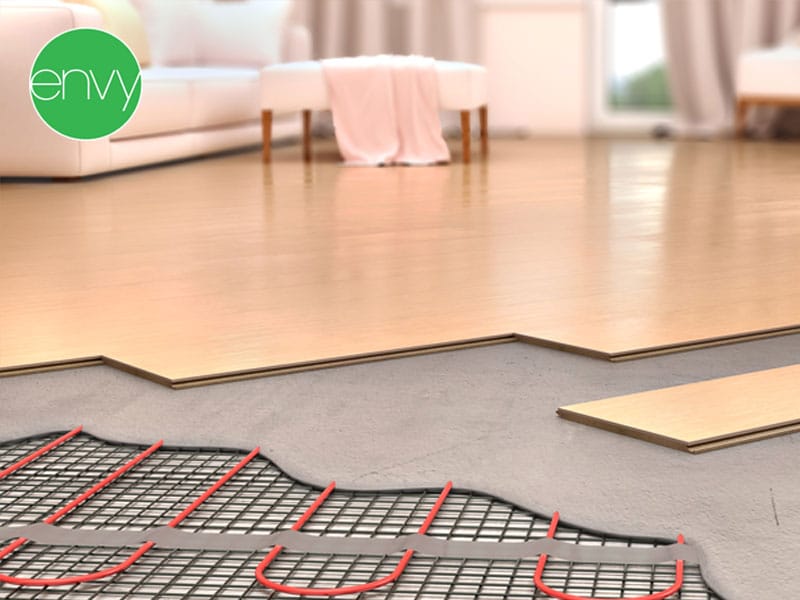 How Does Heated Flooring Work?
As the name suggests, floor heating is an under-the-floor heating system that emits heat through the floor's surface rather than through the air. The two most common methods of heating up your floors are electric or hydronic. An electric heating system uses electric wires while a hydronic system uses hot water tubes, both of which are installed underneath your flooring to radiate heat. 
What Are the Pros of Radiant Floor Heating?
As mentioned above, a heated flooring system is an energy-efficient way of heating up your home. It is easier to experience "pure warmth" from heated floors versus from a conventional forced-air heating system since there is less heat loss from surrounding surfaces. It is a favorite especially among bathroom renovation companies because, let's face it, nobody really wants to walk barefoot on a cold floor when you wake up in the middle of the night to do your business.
What Are the Cons of Radiant Floor Heating?
One thing that discourages many homeowners from getting heated floors is the difficulty of installation especially for floors that are already in place. For heated floors to be installed, you will need to remove the old flooring. While there are new products that are available in the market such as electric radiant pads that can be installed between the joists underneath your floor, it will require basement or crawl space access which many homes simply do not have.
Now that you have a pretty good idea of what installing heated floors takes, why not give heated floors and sunroom addition contractors Envy Home Systems a call to request a free quote? You can reach us at  (888) 847-7954. Alternatively, you can fill out our contact form to schedule a free, no-obligation consultation with one of our experts today.